Quit, AGP tells ministers, MP
AGP has demanded exclusion of Assam from CAA's purview and challenged the act in the apex court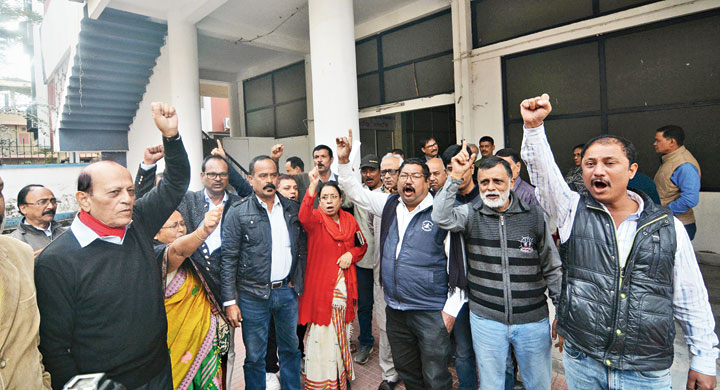 ---
|
Guwahati
|
Published 02.01.20, 10:36 PM
---
The gap in Asom Gana Parishad (AGP) is widening as the regional party's city unit on Thursday resolved to demand the resignation of the three AGP ministers and one Rajya Sabha MP from their party posts.
The resolution came in the aftermath of the party leaders' stand on the Citizenship Amendment Act (CAA). While party president Atul Bora, working president Keshab Mahanta and leader of AGP Legislature Party Phani Bhusan Choudhury continue to serve as ministers in the BJP-led state government, party's general secretary Birendra Prasad Baishya voted in favour of CAB in the Upper House.
Girin Talukdar, secretary of AGP's Guwahati unit, said, "Because of the betrayal by our leaders, the grassroots workers have been facing public wrath across the state. Though the party had earlier decided to oppose the CAA vehemently, the three ministers and Baishya have continued to support the BJP's move." The AGP's city unit has held a meeting at the party's headquarters at Ambari.
Unlike last time, the AGP leaders continued to be a part of the government even when the saffron camp brought in CAA. The AGP's continuous association with the BJP has attracted sharp criticism too. Prior to the 2019 Lok Sabha polls, AGP ministers walked out of the government opposing the Citizenship (Amendment) Bill but later refreshed its alliance over a seat-sharing arrangement.
Mahanta, who is the state's water resources minister, said AGP would fight for the constitutional safeguards of the indigenous people's culture, language, identity and political rights both from inside and outside the government. The party has demanded exclusion of Assam from CAA's purview and challenged the act in the apex court. Talukdar added, "We don't want such leaders to run the party. The AGP, which emerged from a people's movement, has been now deserted by the people due to its failed leadership."
Security forces have been deployed in front of AGP office since the anti-CAA protests started to heat up in the state.