Protests irrational, emotional: Sonowal
Swahid Smarak Kshetra and Swahid Udyan will be built in the memory of Assam Agitation martyrs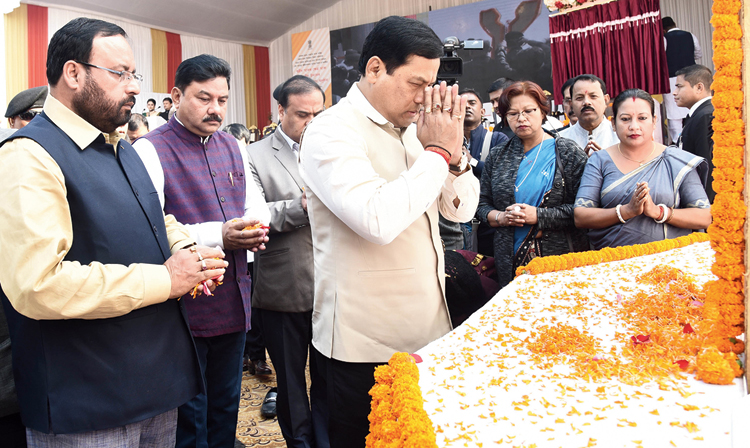 ---
|
Guwahati
|
Published 10.12.19, 06:56 PM
---
Assam chief minister Sarbananda Sonowal on Tuesday asked various organisations not to spread rumours about the Citizenship (Amendment) Bill and said the ongoing protests against the bill by students are "irrational" and "emotional".
In the Lok Sabha on Monday night the BJP MPs from the state supported the bill, but pushed for implementation of Clause 6 of the 1985 Assam Accord which guarantees constitutional safeguards to the Assamese people.
Participating in a Swahid Divas programme organised by the Assam Accord implementation department here on Tuesday, Sonowal said: "In this age of competition, youngsters should concentrate on their studies and society build a work culture. I urge all the organisations not to spread misinformation regarding CAB and spread panic among masses."
The Sadou Asom Jatiya Swahid Parial Samannayrakhi Parishad cancelled the central Swahid Divas function at Gohpur.
Sonowal laid the foundation stone of Swahid Smarak Kshetra and Swahid Udyan to be built in the memory of Assam Agitation martyrs.
"Those who sacrificed their lives for the people of the state wanted a prosperous Assam. The state is now gaining prominence in the country for rapid development as it has become a chosen destination for major events in the country. Therefore, to fulfil dreams of a strong Assam, logic and rationality will only provide permanent solutions to the state's problems and not emotional outbursts," Sonowal said.
"History never forgives anyone who was disloyal to his own people. All those who are spreading misinformation to create unrest in the state, must refrain from such activities. If I am lying, then history will not forgive me too. People of the state need not fear as we vow to fulfil all the promises. They must have faith in the government," he added.
Chandra Kanta Talukdar, younger brother of first martyr Khageswar Talukdar, said: "We are with the people of the state. Since our leaders have failed us, people have to continue protests. We are helpless."