Plastic-free pandals in Guwahati
Puja committees in the city opted for plastic-free decoration of the mandaps as well as for use in distributing prasad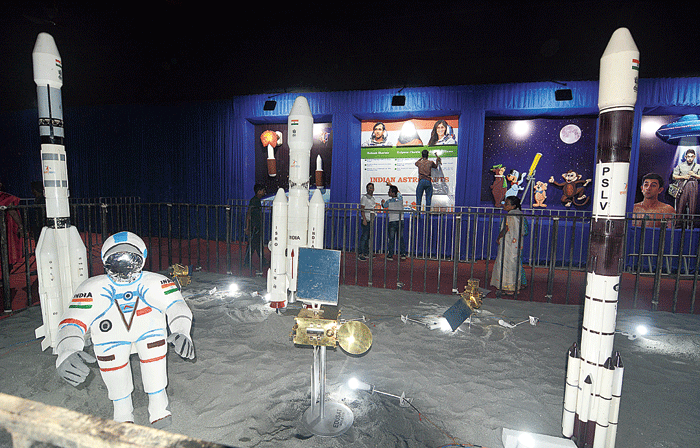 ---
|
Guwahati
|
Published 04.10.19, 07:47 PM
---
Puja committees in the city are ensuring their adherence to the plastic ban and other rules set by the Kamrup (metro) district administration for Durga Puja this year.
The Puja committees have opted for plastic-free decoration of the mandaps as well as for use in distributing prasad, preferring to use environment-friendly materials like bamboo, jute sacking, mats and other natural things. Earthen cups and banana or leaf plates will be used to distribute prasad, including khichdi and payash.
The community Pujas were given permission by police station of the area only after obtaining the requisite no-objection certificates from the concerned agencies and departments like Fire and Emergency Services (F&ES), Assam Power Distribution Corporation Limited (APDCL), public works department (PWD) and others.
Ramashankar Jaiswal, the adviser of the Bishnupur Kathpool Puja committee, was emphatic on the non-use of plastic and other materials which damage the environment.
"We have used only bamboo mats, jute sacking material and mud to build the mandap. We will not use plastic glasses or plates to distribute prasad but only earthen ware and leaf plates. Our volunteers will also ensure that smoking and other forms of tobacco are not used inside the mandap," Jaiswal told The Telegraph.
The mandap is built like an ancient cave temple, with tunnels having idols and real green creepers on the walls and ceiling.
The Puja mandap at No. 3 Ferry Ghat at Pandu is built like an earthen pitcher or punyaghot used in pujas to stress on natural things.
Kamrup (metro) deputy commissioner Biswajit Pegu had chaired a meeting with departments like F&ES, APDCL, PWD (building), District Disaster Management Agency and representatives of community Pujas in the city.
"A series of dos and don'ts were issued by the deputy commissioner and the Puja committees agreed to abide by them. Of special mention is the complete single-use plastic ban. We will keep a close watch on things. The committees have to maintain cleanliness and not cause noise pollution by playing loudspeakers after 10pm," said a source at the DC's office.