Pedestrian woes on Dhubri roads
With a regular increase in the number of vehicles, the situation is going from bad to worse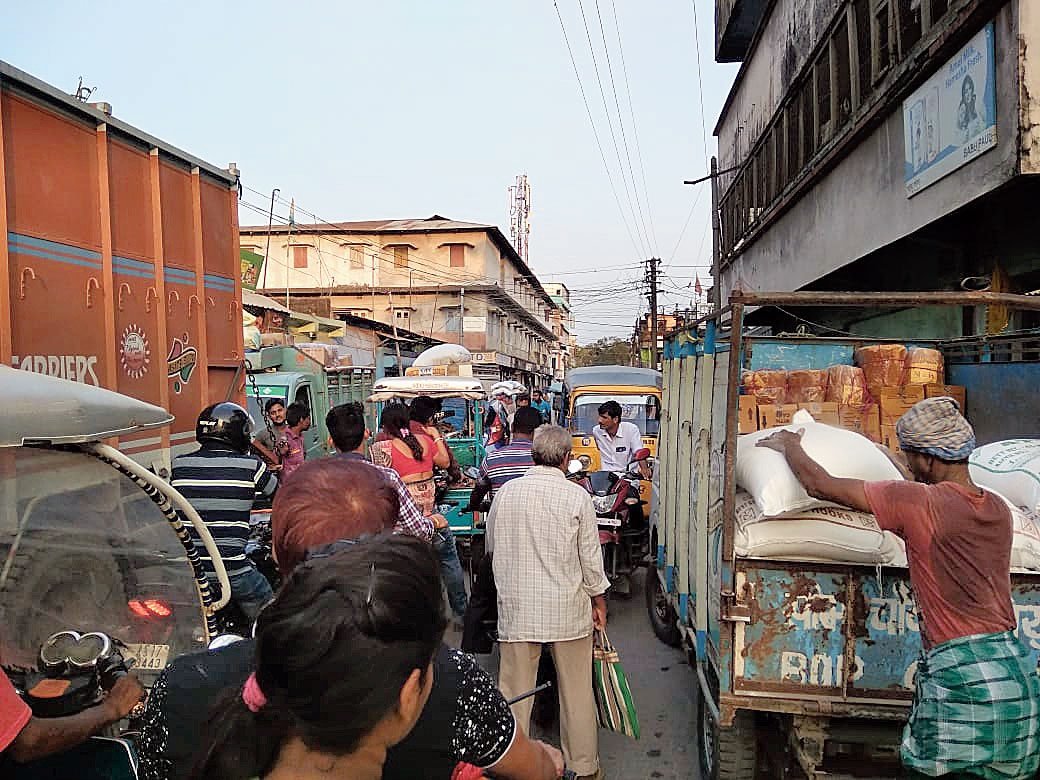 Vehicles stand bumper-to-bumper in Dhubri
Picture by Mukesh Kumar Singh
---
Dhubri
|
Published 13.02.20, 07:03 PM
|
---
The poor development of a proper transport and communication system in the Dhubri town, which was first constituted as a municipality in 1883, has become a source of major inconvenience to pedestrians.
The town's narrow roads witness a lot of commotion with pedestrians and vehicle-owners jostling for space. With a regular increase in the number of vehicles, the situation is going from bad to worse. The town's population is over a lakh.
While vehicles are increasing fast, the town's streets are getting narrower by the day with a spurt in shops and market complexes.
According to Dhubri District Transport Authority data, 11,753 vehicles were registered in 2018-2019.
The rampant encroachment of footpaths is also a cause for worry. In August 2019, the district administration had launched a massive drive to evict roadside encroachers and razed illegal structures in the town area. However, the encroachers returned soon after, right under the nose of the authorities.
Dhubri district transport officer Ganesh Sonowal said, "Where there are footpaths, pedestrians cannot use them as vendors and shopowners use it to display their wares. It seems the Dhubri Municipal Board is oblivious to the plight of pedestrians. Rows of commercial and goods vehicles are lined up in the busy market areas even during restricted hours. Neither the board nor the traffic police have any control over the battery e-rickshaws plying in town. Over 4,000 e-rickshaws ply daily in the district but only 450 e-rickshaws are registered with the district transport authority. Our department has taken several initiatives to book unauthorised vehicles. We are expecting results soon." He sought the co-operation of all the authorities concerned to fight the menace.
Cosmo Bazar on Chairman Road, M Bazar at Harisabha, Kolkata Bazaar and M Plaza on NS Road, India Bazaar on Station Road and other big commercial complexes do not have proper parking facilities, adding to traffic woes. Traffic congestion in and around the main market (Lenin Market) has also increased.
A large number of vehicles are seen parked permanently in front of Dhubri Girls College, Dhubri Girls Higher Secondary School, NS Road, Chairman Road, CH Paul Road, Old Hospital More and Old Thakurbari More, disrupting the flow of regular traffic, sources said.
The GTB Road, which connects the district headquarters to the rest of the state via Gauripur town, is one of the busiest roads of Dhubri town but commercial vehicles plying on this road do not comply with government instructions either.