Nota hike raises concern in Assam
1,78,353 voters pressed the Nota button in the Assam, which is 31,296 more than the 2014 elections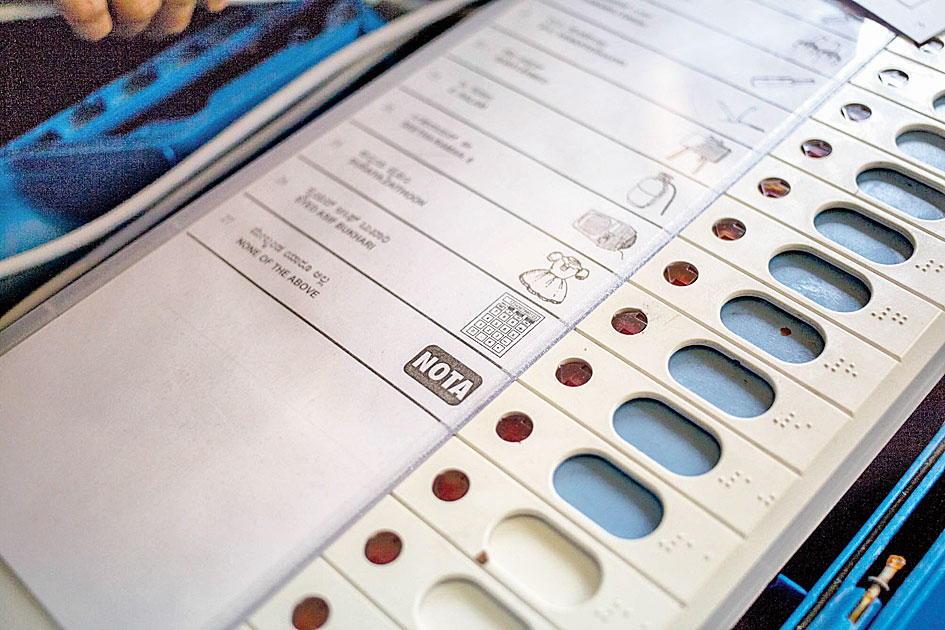 ---
---
People in Assam have expressed concern over the high percentage of none of the above (Nota) votes in the 2019 Lok Sabha elections in the state.
Altogether 1,78,353 voters pressed the Nota button in the Assam, which is 31,296 more than the 2014 elections.
Dhurva Jyoti Sarma, a professor of political science, told The Telegraph, "The standard of politics is decreasing in the Northeast as well as in the entire country. The leaders use objectionable words during poll campaign and violent attacks are often reported during the elections. I think this led the voters to press the Nota button."
He said, "Most of the leaders speak about language, culture, tradition and sacrifice on the dais but lead a luxurious life and send their children for education in foreign countries. This leads to anger and discontentment among the people."
The Nota percentage accounted for 0.99 per cent of the 1,79,86,066 electorate, with Dibrugarh seat in Upper Assam accounting for the highest and Karimganj (SC) the lowest in this category, the Election Commission office in Guwahati said.
Dibrugarh recorded 21,288 Nota followed by Mangaldoi with 18,518 , Kokrajhar 15,988, Kaliabor 15,913, Tezpur 15,626, Lakhimpur 15,220, Jorhat 12,569, Nowgong 10,757, Gauhati 10,466 and Karimganj seven. The figures include postal ballots too.
Manu Prasad Chouhan, the editor of a local daily, said, "Nota indicates that the voters are neither happy with the Congress nor the BJP or any other candidates. It shows the helplessness of the voters who are unable to find a suitable candidate or party. Democracy is one of the most powerful and people-friendly ruling system but Nota indicates that its analysis and revision is necessary. It is a matter of great concern."
In the 2014 Lok Sabha polls, 1,47,057 electorate, accounting for less than 1 per cent of the total votes polled, went for Nota .
Jumpa Sengupta, an advocate, said, "The people of Assam want peace , prosperity and happiness. Besides, they want promising and committed leaders. If they don't find that kind of leader, they turn towards Nota."
"The demographics of Assam is different with many communities like Ahom, Moran, Sonowal-Kachari, Mising, Koch Rajbongshi and Hindi and Bengali-speaking people. Tea workers are a sizable section of the electorate in Assam and there are religious minorities too. A leader should have equal popularity among all these communities and should gain faith and trust of all."
On September 27, 2013, the Supreme Court had ruled that the right to register a Nota vote in elections should apply while ordering the Election Commission of India to provide a button for the same in electronic voting machines (EVMs).
However, Nota is an invalid vote so it does not impact the result of the election process. Whether Nota gets more or less votes, it is not taken into account for calculating the total valid votes.