No impact of 370 in Nagaland: Governor
Nagaland governor allays NE fears over Article 371, says Naga peace talks at an advanced stage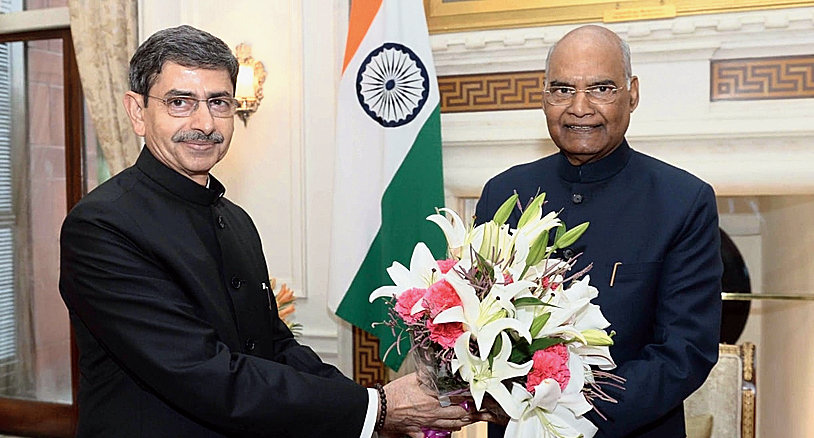 Nagaland governor R.N. Ravi with President Ram Nath Kovind in New Delhi
(PTI)
---
Guwahati
|
Published 06.08.19, 09:00 PM
|
---
Newly appointed Nagaland governor R.N. Ravi on Tuesday said the developments in Jammu and Kashmir would have no impact on his state as is being apprehended by certain quarters in Nagaland and elsewhere in the Northeast.
The Centre's decision to scrap Article 370 which provides special status to Jammu and Kashmir and also to bifurcate the state into two Union Territories on Monday sparked off fears of withdrawal of special powers enjoyed under 371 by Nagaland (371A), Assam (371B), Manipur (371C), Mizoram (371G) and Arunachal Pradesh (371H) in the Northeast.
Ravi, who continues as the Centre's interlocutor for Naga peace talks, in a two-paragraph statement on Tuesday, categorically assured his "brothers, sisters and children" of Nagaland that development in Jammu and Kashmir would have no implications on Nagaland.
Allaying apprehensions over any impact on 371A that provides special status to Nagaland, Ravi also conveyed that the Naga peace talks were at a "very advanced stage".
On Monday, KMSS leader Akhil Gogoi had in Guwahati criticised the Centre's move as "anti-democratic" and "autocratic". He said, "The time is not too far when the BJP-RSS and the government will seek to scrap Articles 371A to 371G which give special constitutional status and safeguards to northeastern states."
Article 371A says, "No Act of Parliament in respect of religious and social practices of the Nagas, Naga customary law and procedure, administration of civil and criminal justice involving decisions according to Naga customary law, ownership and transfer of land and its resources shall apply to the state of Nagaland unless the Legislative Assembly of Nagaland by a resolution so decides."
Ravi said, "I would like to categorically assure you all that you do not have to worry at all. Article 371A is a solemn commitment to the people of Nagaland. It is a sacred commitment. We are earnestly working to happily conclude the ongoing political process which is at a very advanced stage. God be with us all."
Ravi, a former special director of Intelligence Bureau, took over as the governor of Nagaland on August 1, a surprise choice for many in the state. He has been closely connected with the state, having signed the framework agreement with the NSCN (Isak-Muvah), the group spearheading the Naga peace talks, on August 3, 2015 on behalf of the Centre and another agreement with the working committee of six Naga national political groups on November 17, 2017.
The day also saw Ravi meet President Ram Nath Kovind and vice-president Venkaiah Naidu in Delhi and briefing them on matters pertaining to Nagaland. This was his first meeting after taking over as the governor.