Neda: Going from strength to strength
Eight states in fold, alliance mulls role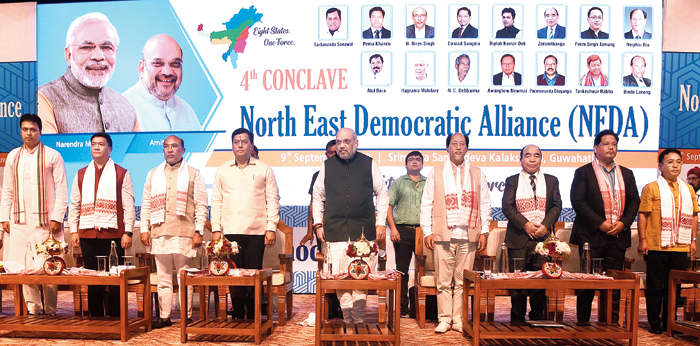 ---
|
Guwahati
|
Published 09.09.19, 07:53 PM
---
The chief ministers of Northeast states on Monday hoped to see the North East Democratic Alliance (Neda) go beyond being just a political platform and help resolve the region's festering problems. They articulated their opinion at Neda's fourth meeting.
The meeting, chaired by BJP national president and Neda chairperson Amit Shah, witnessed the participation of all the eight chief ministers of the region, showing how the platform of non-Congress political parties of the region has grown over the years.
"Today, all the northeastern states are united under the umbrella of Neda and this platform can become the game-changer for the region. All pending issues can be resolved amicably and a united effort can be made for development of each state," Shah said.
Neda convener Himanta Biswa Sarma also suggested that by using the platform "positively", the northeastern states can resolve their common problems like inter-state boundary conflict and drug menace. Several chief ministers endorsed the suggestion.
Meghalaya chief minister Conrad Sangma said, "Maybe this is the right time to address our problems and the border problem is one of them. Since we are like a family, we may now find a way to resolve our problems." He suggested that all the chief ministers of the region together discuss how to resolve the issues of boundary, export, economic development and coordination.
Shah said the Northeast is not a "political destination" but a "development destination" for the Centre and suggested that the eight states of the region jointly prepare and promote tourism packages covering the entire region instead of each promoting their own tourism destinations. He also suggested a mutual plan for mitigation of floods.
Nagaland chief minister Neiphiu Rio said the Framework Agreement signed in August 2015, a result of 22 years of peace process, was at a "very advanced" stage. "We are hopeful that with the guidance of the Union home minister, a solution will come early," he said. Rio urged other Northeast states to resolve their Naga insurgency issue. "Collectively, we can make peace and take forward development," he said.
Responding to Rio, Mizoram chief minister Zoramthanga said his state was once a hotbed of militancy but had now turned "most peaceful". "If Mizoram can do that, why not other states?" he asked. He also requested Shah to exclude the Northeast from the purview of the Citizenship (Amendment) Bill.
Arunachal Pradesh chief minister Pema Khandu said, "We should discuss our common issues on this Neda platform. All the states should resolve their border problems. We should organise brainstorming sessions jointly on our problems."
Sangma said each partner of Neda should be respected to keep the coalition intact. "It is not like you will take NPP in a state because you need it in that state and not take it in another state because you do not want it in that state," he said.