NDFB leaders gear up for BTC polls
The BJP wants to make a statement in the BTC area this polls: Party spokesperson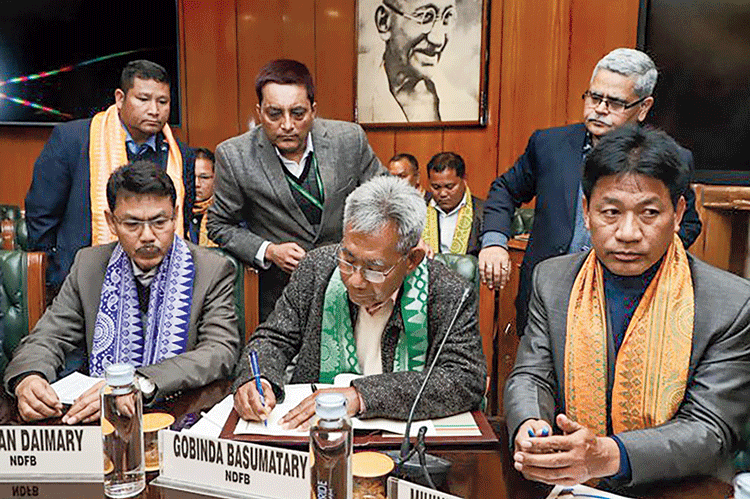 ---
|
Guwahati
|
Published 10.03.20, 06:44 PM
---
The National Democratic Front of Boroland (NDFB) on Tuesday became history but its leaders are positioning themselves for an active role in Bodo politics, starting with the Bodoland Territorial Council (BTC) polls likely to be held in April.
On Tuesday, the last remaining faction of the NDFB, the NDFB (Progressive) faction, led by Govinda Basumatary, officially disbanded at a function in Kokrajhar in the run-up to the BTC polls.
The day also saw NDFB (Saoraigwra) faction general secretary, B.R. Ferenga and 400 others joined United People's Party Liberal (UPPL), seen as a key challenger to the ruling Bodoland People's Front (BPF).
The other three factions of the NDFB led by Dhiren Boro, Ranjan Daimari and B. Saoraigwra dissolved on Monday at a designated camp of the NDFB in Udalguri district.
Some of the leaders of these three factions were reportedly likely to join the BPF too.
The NDFB was formed in 1986, aiming for a separate Bodoland to "free" the Bodos and other indigenous tribal people of Assam living in the area, from socio-political and economic exploitation and suppression.
The disbandment of the NDFB factions followed a result of their signing a peace accord with the Centre and the Assam government early this year.
The president of the UPPL, Pramod Boro, a signatory to the recently-signed Bodo Accord and former president of the All Bodo Students' Union (Absu), told The Telegraph, "The BPF has been ruling the BTC for years and there is a strong anti-incumbency factor. Moreover, during the BPF's tenure, the region did not witness major development, as government schemes were not implemented. Therefore, people need a change. The party will declare its candidate list for the ensuing BTC polls by March 15."
BPF chief Hagrama Mohilary has been the head of BTC since its inception in 2003. The BPF has already announced 15 candidates in the 46-member council where elections will be held for 40 seats and six members are nominated by the governor from the non-represented communities.
The BPF, an ally of the ruling BJP, had earlier claimed that it would contest the BTC polls in alliance with the AGP and BJP but the BJP has not yet declared so.
State BJP spokesperson Rupam Goswami said,
"The BJP wants to make a statement in the BTC in this poll."
On Tuesday, the BJP is holding a public rally in Goreswar under the BTC and following the function, the party likely to "clear" its stand.
In the 2015 council polls, the BPF retained power for the third consecutive term, winning 20 out of the 46 seats. The BPF had also lost 11 seats in contrast to the last election in which it had won 31 seats.
Former MP Sansuma Khunggur Bwiswmuthiary who has rejected the latest Bodo Accord and threatened to revive the Bodo movement once again.
According to Bwiswmuthiary, "We are not satisfied with the recent Bodo Accord. It was signed by a selected batch of leaders without taking former Absu leaders, activists and the leaderships of other social organisations into confidence."
UPPL leader Boro said, "It's very unfortunate that a leader like Bwiswmuthiary has said something like this."
I believe it's nothing but fear of losing his political relevance in the region. This Accord has not only shut down the road of militancy in the BTC areas but also has opened the door of opportunities for the people living in the area."