MNF pledges to bring back prohibition
Zoramthanga says his party would lift the Mizoram Liquor (Prohibition & Control) Act if it wins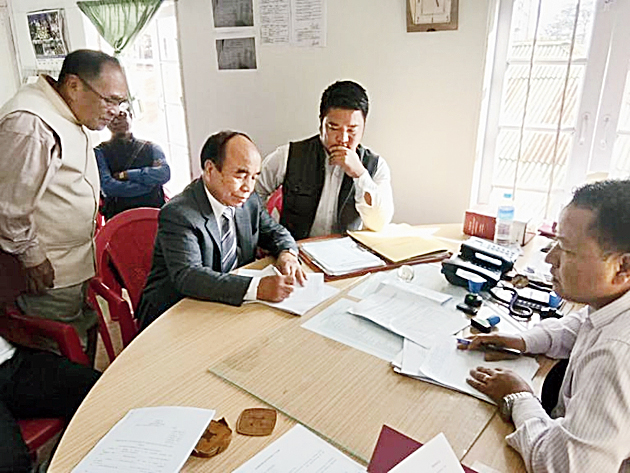 MNF chief Zoramthanga files his nomination papers on Friday.
Picture by Henry L. Khojol
---
Aizawl
|
Published 09.11.18, 08:07 PM
|
---
Mizo National Front (MNF) chief Zoramthanga on Friday said his party would lift The Mizoram Liquor (Prohibition & Control) Act and re-impose total prohibition in the state if it comes to power.
Elections to the Mizoram Assembly will be held on November 28 and results declared on December 11.
The act was introduced by the Congress government in 2015 replacing The Mizoram Liquor Total Prohibition Act, 1995, introduced by the MNF government and enforced for 18 years from 1997.
The MLPC Act came into force in January 2015 and the first wine shop opened in the state in March that year.
Speaking to reporters after filing his nomination for the Aizawl East seat on Friday, Zoramthanga alleged that opening of wine shops has adversely affected Mizo society. "Definitely yes, our party would lift the MLPC Act and re-impose total prohibition," he said, adding that alcoholism has created problems in many families.
Friday was the last date for filing of nomination papers for the Assembly polls.
Zoramthanga expressed confidence that he would win his seat and his party would form the next government. "I am confident of defeating the ruling Congress and it will win under 10 seats. Our party would win simple majority after the Assembly polls," he said.
He said people "have become sick" of the Congress government owing to poor development, lack of basic facilities and trouble created by liquor abuse.
He said the MNF has a better policy for development of the state and the Congress had wrongly projected its candidates.
Zoramthanga, who became chief minister for two terms between 1998 and 2008, said his government would give priority to self-sufficiency in foodgrains, economic development and enforcing a liquor ban.
The MNF has fielded candidates in all 40 seats, including a Chakma candidate in Tuichawng seat in Lawngtlai district.
On fielding a Chakma candidate against the appeal of civil society groups, Zoramthanga said, "We were the first to accept the appeal by the All NGO (Coordination Committee) not to field a Chakma candidate. But we fielded one as the Congress and the BJP named Chakma candidates in their lists."
On forging a possible alliance with the BJP, he said his party would go it alone. "We will not need to forge any alliance because I am confident we will win simple majority on our own," Zoramthanga said.