Meghalaya's NPP to break BJP ties if Rajya Sabha clears citizen bill
The NPP has formed committees to conduct elections for the post of party president in Assam and Mizoram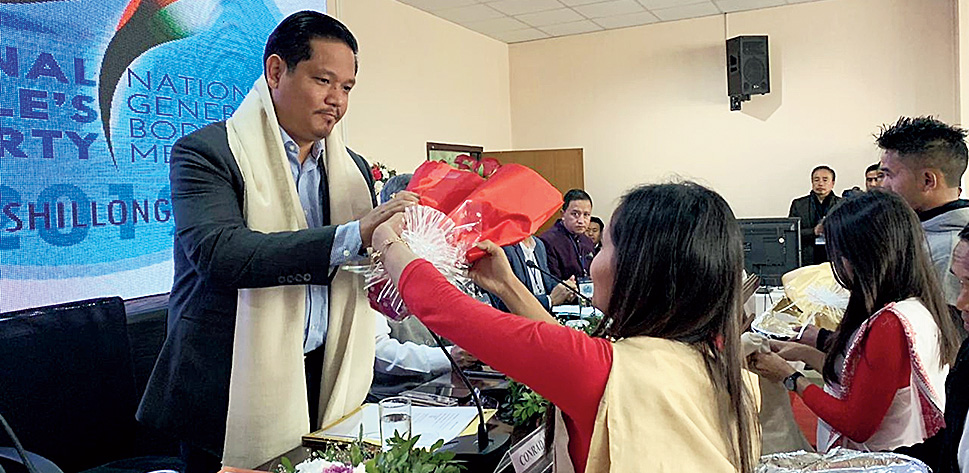 Conrad Sangma being greeted at the meeting in Shillong.
Rining Lyngdoh
---
Shillong
|
Published 09.02.19, 07:09 PM
|
---
Meghalaya's ruling National People's Party (NPP) on Saturday decided to sever ties with the BJP-led NDA government if the Citizenship (Amendment) Bill, 2019, is passed in the Rajya Sabha.
The NPP, an ally of the BJP, unanimously adopted the resolution at its national general body meeting held at the state convention centre here. The decision was announced by Meghalaya chief minister Conrad K. Sangma after the meeting.
NPP leaders and legislators from various states attended the meeting.
"The meeting passed a resolution, to be sent to the government of India, not to go ahead with the bill in the Rajya Sabha. If the bill is passed in the Rajya Sabha, the party will break its ties with the NDA," Conrad told reporters.
Earlier, the NPP along with regional parties of the Northeast, had garnered support of NDA allies like the Lok Janshakti Party (LJP) and Shiv Sena to oppose the bill in the Rajya Sabha.
The meeting also re-elected Conrad as the NPP's national president.
Asked about the political equation in some states if the NPP breaks ties with the NDA, Conrad said there would be consequences and the party was aware of those consequences but it would not accept the bill. It would work to ensure protection of the indigenous and tribal people.
In Meghalaya, the NPP has 20 MLAs and leads the coalition government with the support of two BJP legislators and other regional parties.
If the bill is passed in the Rajya Sabha, it would be interesting to see if the BJP would be removed from the government.
In Manipur, four NPP legislators support the BJP-led government. If the bill is passed, the NPP legislators will have to withdraw support.
Conrad also said the NPP has decided to gear up preparations to contest all the 25 seats in the Northeast in the 2019 Lok Sabha elections.
It will also contest all the seats in Arunachal Pradesh Assembly polls.
"We are keen to contest all the Lok Sabha seats in the Northeast and our election committee will work out how to proceed," Conrad said.
The NPP has formed committees to conduct elections for the post of party president in Assam and Mizoram.
On February 17, the party's Assam unit and office will be inaugurated in Guwahati.