Meet to gather funds for Assam start-ups
Top investment agencies attended this event, titled Investor Hours: Unfolding Investment Hacks in the Start-up space of Assam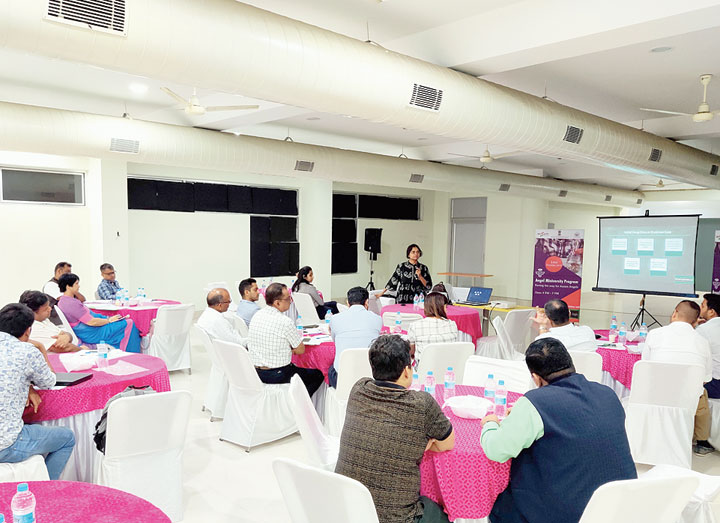 ---
|
Guwahati
|
Published 16.10.19, 08:12 PM
---
Assam's first state-owned marquee incubator, Assam Startup — The Nest, in association with IIM Calcutta Innovation Park, hosted an investor event series on Monday and Tuesday to create an early-stage funding pool for the start-ups in Assam.
Top investment agencies of the country were asked to be a part of this crucial event, titled Investor Hours: Unfolding Investment Hacks in the Start-up space of Assam.
The two-day event was organised keeping in mind the newly emerging interest in start-up investments in the region and the gradual emergence of the Northeast as a hotbed for investors countrywide. A need has been felt to create an early-stage funding pool for the start-ups in Assam.
The start-up scenario in the state can improve only with the creation of a mutually supportive ecosystem in the state wherein the high-net-worth individuals of the state have to play a crucial role, the organisers said.
The first day of the event saw the high-net-worth individuals (HNI) of the state gathering at The Nest for the Angel Miniversity Program, focussed on the dissemination of knowledge to the HNIs about the myriad aspects of start-up investments, including the stages and best practices of angel investing, term sheet, valuation and due diligence and managing exits.
Nandini Mansinghka, the chief executive officer and managing director of the Mumbai Angels Network, India's premier angel investment platform, chaired the meet, offering vital insights into the nitty-gritty of early-stage start-up investments.
The event was graced by Manjula Saikia-Bhuyan, IAS, additional secretary, department of industries and commerce, government of Assam and managing director, AIIDC.
Bhuyan thanked Nandini Mansinghka and Mumbai Angels for participating in the meet and urged the HNIs to come forward to support the start-ups and take the next step towards forming the Assam Angel Network and assured them of complete support from the Assam government.
"An angel is someone who takes risks with the founder. They are keen on investing time and money. They are angels because they walk in when everyone else says no," Mansighka said.
"An angel investor gets larger percentage of the company so that when it grows, they get a higher rate of return," she added.
The second day witnessed an evening Fireside Chat on Demystifying Start-up Investments — Understanding Investor's Perspectives.
In addition to Mansinghka, Varun Bhatt from Unicorn India Ventures, Srikanth Prabhu from Social Alpha, Ribhu Ranjan Baruah from Northeast Venture Fund, and Sandro Stephen from Indian Angel Network attended the session as resource persons.
The guests admitted to being surprised by the quality and passion of the start-ups in the state. One common advice that they shared was to think big. They advised the start-ups to eventually start exploring largescale market opportunities.