Manipur observes Unity Day
People pledge to protect state's territory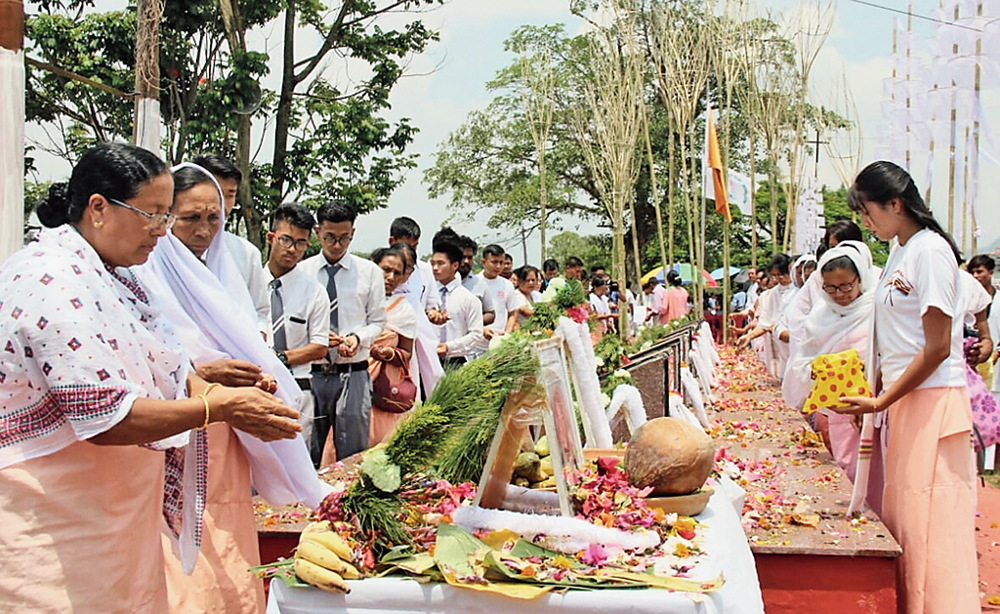 ---
|
Imphal
|
Published 18.06.19, 06:51 PM
---
The Great June Uprising Unity Day was observed here on Tuesday with the organisers giving a call for unity and warning the Centre against attempting to break up Manipur.
The day is observed by the United Committee Manipur and the All Manipur United Clubs Organisation every year to commemorate the 2001 uprising and reaffirm the resolution to safeguard the territorial integrity of the state.
On June 18, 2001, people in the valley went on a rampage, protesting against the extension of the NSCN (Isak-Muivah) ceasefire without any territorial limit. Eighteen protesters died in the firing by security guards as a mob burnt the Assembly building, chief minister's office, other government establishments and ministers' quarters.
On Tuesday, people from different communities, relatives of the deceased protesters, well-wishers and members of the Assembly paid floral tributes at the memorial site in Kekrupat here.
The tribute began with a traditional salute by a Thang-ta group.
A public meeting was held at the Kekrupat memorial complex ground with people resolving to protect the state's territory.
Amuco president Ph. Deban said, "Today, we the people of both the hills and valley, resolve to stand firm to safeguard unity." He said the state's territory and unity were under threat with separate laws administered in the hills and valley.
UCM president Sunil Karam said, "We organise this gathering every year with the message to safeguard unity."
Speakers at the gathering appealed to the people to stand united against the Citizenship (Amendment) Bill.
A blood donation camp was also held at Kekrupat as part of the day's programme.
Most shops remained closed here as people thronged Kekrupat.