Arunachal Pradesh: Long march plan for clean drinking water
Activist Sol Dodum lines up padyatra from Itanagar to Delhi if demands are not met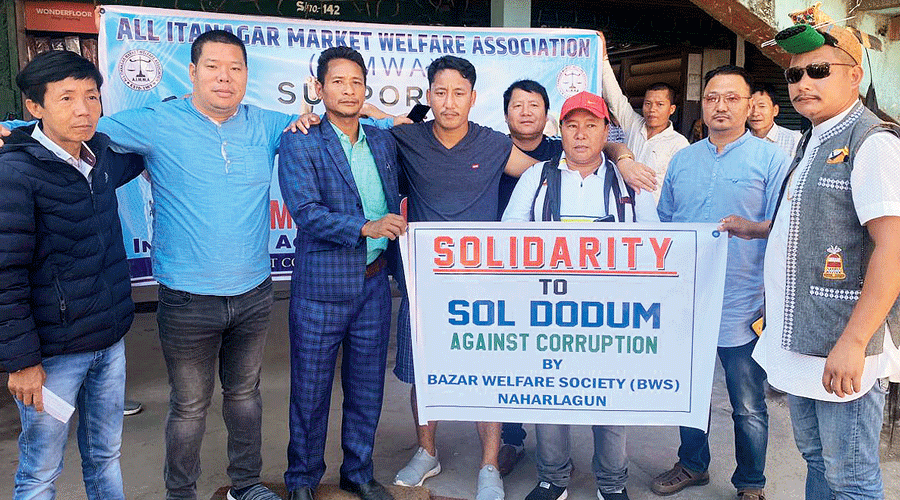 Sol Dodum in grey tee with his supporters in Itanagar.
The Telegraph
---
Guwahati
|
Published 08.05.22, 01:53 AM
|
---
A protest seeking clean drinking water in Arunachal Pradesh is set to go national with activist Sol Dodum threatening to launch a padyatra from Itanagar to Delhi on May 12 if the BJP-led state government does not meet his demands by May 10. 
Dodum had hit the headlines by taking out a 225-km walk from Seppa in East Kameng district to the state capital Itanagar on April 15 to draw the attention of the state government to the problem of drinking water.
The 35-year-old activist told The Telegraph on Friday he would have to launch another democratic march, this time to Delhi, because the state government "does not listen" to the people and is  "not addressing" the issue of corruption.
"If my demands are not met by May 10, I will leave for Delhi on foot.  I will reveal my protest plans only after reaching Delhi but the 2,112-km march has to be taken because the state government does not listen to the voice of the people and is not addressing the issue of corruption," Dodum said. Besides supply of clean water, Dodum's other demands include inquiry against PHE officials in Seppa, the repair of a damaged road, the transfer of the East Kameng deputy commissioner, registration of FIR and action against those who attacked him in Seppa before his Itanagar padyatra.
Dodum reached Itanagar on May 18 and stationed himself there since, vowing not to return unless his demands were addressed.
On Thursday, Dodum took out a well-attended protest march from Akashdeep to Indira Gandhi (IG) Park in Itanagar in support of his demands. He had also staged an indefinite fast but had to end it on April 29 owing to indifferent health.
The state government has been engaging with him. A senior minister held three rounds of talks, and the chief minister asked the PHE department to send a fact-finding team to Seppa for a ground report, which has since been submitted.
The district administration and the PHE too have swung into action to lay the pipes to supply water in Seppa, which has a population of around 19000.
On the government assurance to provide drinking water within a month, the activist said it was impossible.
"They will supply water but this water will be unhygienic and untreated, directly from the source by laying pipes. They will need at least two to three years to supply treated water. It is simply impossible to supply treated water within a month. All I demand of the government is basic facilities like supply of clean water which is a huge problem in Seppa. I had to walk 225km because my appeals to the Seppa PHE office went unheeded," he said.
The Rs 35-crore water project started in 2018 with a deadline to complete it by March 2022 but they have sought extension, Dodum said.
Dodum said the fact-finding committee that visited Seppa "sat" with the PHE officials instead of checking the DPR of the water supply scheme and undertaking a thorough site inspection. The government has not acted on his demand to transfer the PHE executive engineer or the DC or action against those who attacked him in Seppa.
"Since my demands are not being met, I have decided to march to Delhi if the government does not respond by May 10 to my demands which are for the people of Seppa. I would request everyone to join my protest as it is for them," Dodum said.