Karimganj circle officer held for scam
Homen Gohain Baruah was arrested for his alleged involvement in a scam involving a Land Ports Authority of India project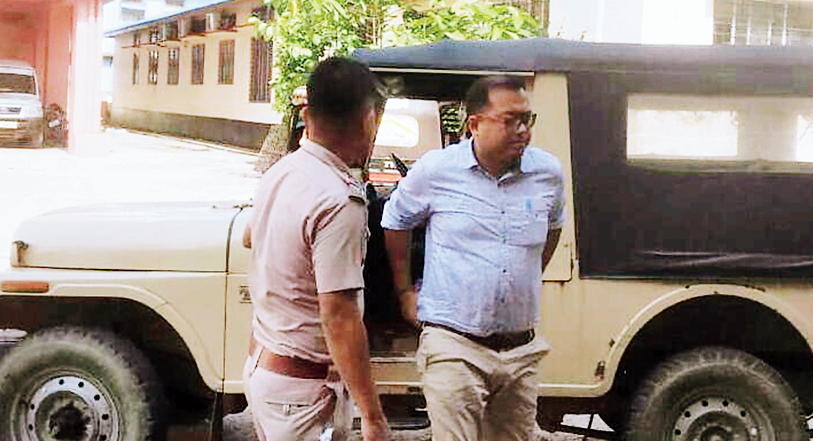 ---
---
Former circle officer of Karimganj, Homen Gohain Baruah, was arrested on Monday for his alleged involvement in a scam involving a Land Ports Authority of India project at Suterkandi in Karimganj district of Assam.
Baruah, an Assam Civil Service official, was arrested from Dergaon town in Golaghat district of Assam and produced in the court of the chief judicial magistrate, which sent him to two-day police custody. Two other officials of the circle office, Subhash Das and Pranit Nath, were arrested on Saturday in connection with the scam. The CJM court sent them to judicial remand.
Sources said the police have seized several documents in connection with the Rs 6 crore land scam.
The Land Ports Authority of India, under the Union home ministry, had sanctioned Rs 6 crore for purchase of land for expansion of Suterkandi International Trade Centre located on the India-Bangladesh border in Karimganj district in south Assam's Barak Valley. However, some officials of the circle office allegedly prepared forged documents to siphon off the money, depriving genuine landowners. These landowners have not received the money sanctioned in their name though officially it has been paid. A section of officials are said to have withdrawn the money by preparing forged documents allegedly in connivance with the land mafia. It is alleged that the land is still in the possession of the land mafia.
Some of the deprived landowners of Suterkandi are Jubair Ahmed Choudhury (Rs 9,58,068 and Rs 3,52,613), Tahir Raja Choudhury (Rs 4,21,515 and Rs 3,36,401), Nasib Uddin (Rs 3,52,613 and Rs 3,12,080) and Hifjur Rahman Choudhury (Rs 6,03,902), among others.
Altogether 26 cases have been registered in connection with the scam.
The sources said some top officials, lawyers and political leaders may be picked up in the multi-crore rupee scam.
They alleged that the land scam is not confined to Rs 6 crore in Karimganj district but may have crossed Rs 1,000 crore if proper inquiry is conducted. It is also alleged that some officials have sold khas land (government-owned fallow land) and reserve forest land to private parties in connivance with touts.