Kamakhya temple closed to visitors
Mosques in the city are also planning to reduce the number of visitors, especially during Friday prayers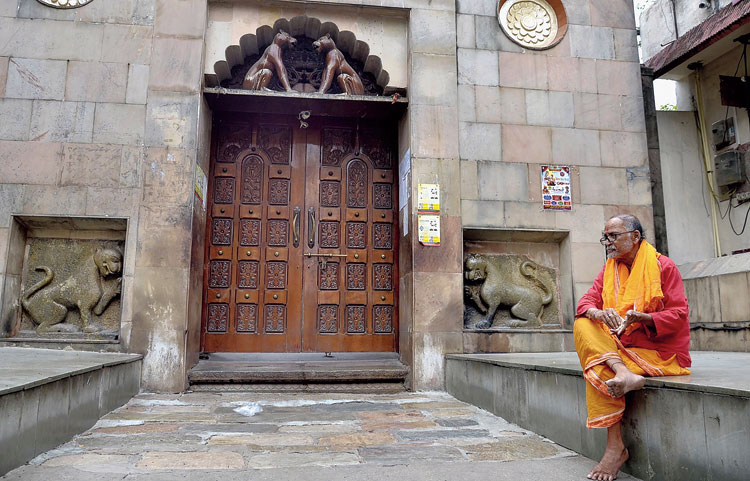 A priest sits outside the closed door of Kamakhya temple in Guwahati on Friday.
(PTI)
---
Guwahati
|
Published 20.03.20, 07:44 PM
|
---
The Kamakhya temple atop Nilachal hills here as well as 107 other temples in Assam have decided to shut their gates to pilgrims and visitors as a precautionary measure against the spread of novel coronavirus.
The temples will continue to perform daily pujas. The restriction on visitors is a move to stop gatherings on the temple premises following government directives. The Kamakhya authorities were sanitising visitors during entry till Thursday but decided to close the temple gates from Friday till further notice. On a normal day, thousands of devotees visit Kamkhya temple.
Kailash Sarma, principal secretary of All Assam Devaloy Sangha, told The Telegraph, "Initially, we were trying to restrict visitors to temples to 10 people at a time. However, today it was decided to close the temple gates in view of the severity of the situation. The gates will be closed till March 31."
He said the Sangha would review the decision only after the situation improves in the country. "Though there is no positive Covid-19 case in Assam so far, we can't take any chances. God helps those who help themselves," Sarma said.
In Sivasagar district, home of the iconic Shiva Dol, assembly of a large number of visitors was restricted. The administration on Friday imposed Section 144 of the Criminal Procedure Code (CrPC) in the entire district.
"According to the order, not more than five people are allowed to assemble in one place. Therefore, it applies to visitors at temples as well," an official source said.
Mosques in the city are also planning to reduce the number of visitors, especially during Friday prayers, to curb the effect of coronavirus.
Nizamul Haque, general secretary of Burha Jame Masjid, said, "The Friday prayers are done in a group. Moreover, owing to the religious and historic significance of the masjid, a lot of people from across the city throng for the Friday prayers. Therefore, we have decided to appeal to the people not to come to the masjid in large numbers to perform the Friday prayers but perform it at a nearby mosque with all the necessary precautions. We have been discussing with other mosque authorities to follow the preventive measures and reduce the gatherings during Friday prayers."
On Tuesday, Assam health and finance minister Himanta Biswa Sarma chaired a meeting with the deputy commissioners through video-conferencing and directed them to create awareness among people to avoid mass gatherings at religious places.