Jorhat villages reel under flood impact
Bhogdoi overflows, 1417 in camp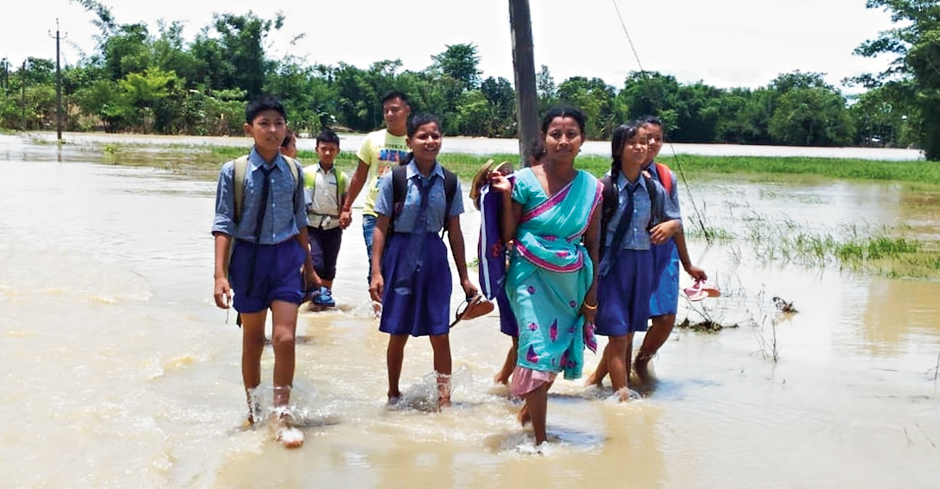 ---
|
Jorhat
|
Published 08.07.19, 08:16 PM
---
Nearly 10 villages and 1,417 persons were affected by the rising waters of the Bhogdoi in western Jorhat on Sunday night.
The villages — Malowkhat, Malowpam, Randhaneejan, Terimeri, Roumari, Balikhuti, Handiquechuk, Saulmora, Kucharchuk and Namanigaon — fall under West Jorhat revenue circle.
The district administration has set up a relief camp at Barbheti LP School in Dergaon Assembly constituency. Jorhat deputy commissioner Roshni A. Korati has rushed to the affected areas.
The National Disaster Response Force (NDRF) and State Disaster Response Force (SDRF) personnel have been kept on standby.
Jorhat deputy commissioner Roshni A. Korati said that departmental and revenue officials were monitoring the situation.
Malowkhat is an area where the Bhogdoi had breached the dyke three months ago. It is at a lower level than the river bed and thus prone to flooding.
A villager at Salmara alleged that the dyke had been repaired recently but the work was so shoddy that it was breached again.
Circle officer Sultana Ahmed said the district administration has distributed rice, salt, pulses and biscuits at the relief camp.