History repeats itself for Assam's Swargiya family
Jawan Suman was gunned down by militants 14 years after his father Kanak was killed by terrorists at their home in Thekarakuchi Kahipara in Baksa district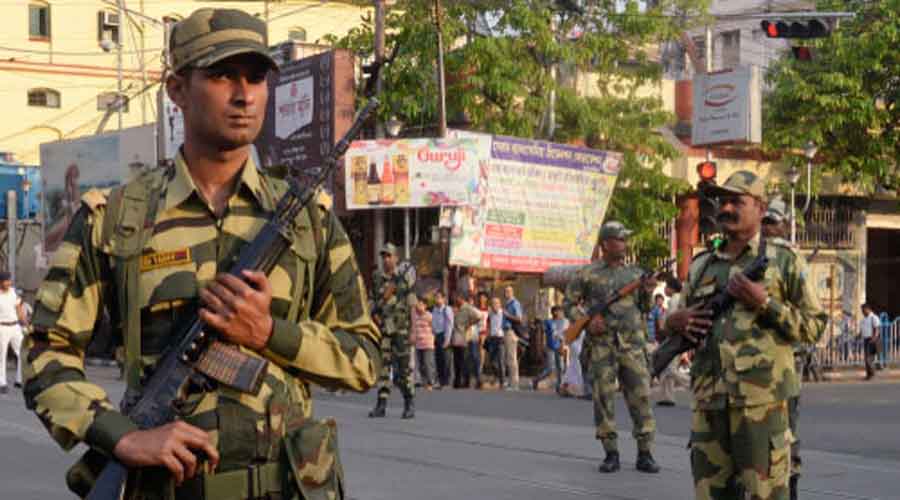 ---
Guwahati
|
Published 15.11.21, 02:21 AM
|
---
Militancy has struck the Swargiary family in Assam twice.
Assam Rifles jawan Suman Swargiary, who died with six others in Saturday's ambush by two militant outfits in Manipur's Churachandpur district bordering Myanmar, was the second person in 14 years from his immediate family to have lost his life in a militant attack.
In June 2007, his father Kanak Swargiary was gunned down by a group of militants at their home in Thekarakuchi Kahipara in Baksa district, around 100km from Guwahati.
"It's our misfortune. First I lost my elder brother (Kanak) and now my nephew (Suman) in militant attacks. I don't know what to say.… My brother's killers are yet to be identified but I just hope the government takes care of my nephew's family," Satish Swargiary, Suman's uncle, told The Telegraph on Sunday. 
At least 50 people in Suman's village are in the defence forces, and it was natural for the 1987-born to be drawn to a life in uniform, his uncle said. Suman had joined Assam Rifles in 2011.
Satish, 57, said he had somehow supported the "hardworking, sincere and gentle" Suman in completing his studies after Kanak's death.
A group of militants had come to their home one June evening and pumped at least 10 bullets into Kanak while he was tending to his cows. Kanak was the president of the local peace committee, a reason the family feels he was killed.
Militancy had flared up in Assam's Bodo belt in the 1990s but things have been improving since a peace accord was reached with the National Democratic Front of Boroland in 2020. This was the third pact for peace in the volatile belt. The first was signed in 1993 with the All Bodo Students Union, and the second in 2003 with the Bodo Liberation Tigers.
"My brother (Kanak) died in my arms. Suman had just cleared his matriculation and wanted to shoulder the burden of the family but I convinced him to study and get a good job. He joined Assam Rifles before his graduation. Now, he too has gone," Satish said.
"He had called his family on Friday to say he would try to come home for his son's birthday next month."
Seven people were killed in the ambush, including the commanding officer, Col Viplav Tripathi from Chhattisgarh, and four quick-reaction team members — Suman from Assam, Shyamal Das from Bengal, R.P. Meena from Rajasthan and Khatnei Konyak from Nagaland.
Tripathi's wife Anuja and son Abeer, a Class I student, were among the victims.
The group was returning from a forward camp when it came under attack.
Two outfits — the People's Liberation Army (PLA) and the Manipur Naga People's Front (MNPF) — have claimed responsibility for the ambush.
The outfits, fighting for an independent Manipur, claimed they were not aware of the presence of the colonel's wife and son in the convoy. They said the security forces should not bring their families to areas declared disturbed by the government.
The whole of Manipur, barring the greater Imphal area, has been declared disturbed under Section 3 of the Armed Forces (Special Powers) Act, 1958, which gives the security forces sweeping powers to maintain order.
After paying his last respects to the deceased at the airport, Manipur chief minister N. Biren Singh said his government would not tolerate terrorist acts.
He also pledged to strengthen security in the border areas of the state. Manipur shares a 390km border with Myanmar.