Guwahati calls off Bihu festivities
The last time a similar decision was made was in 1983, when the Assam Agitation was at its peak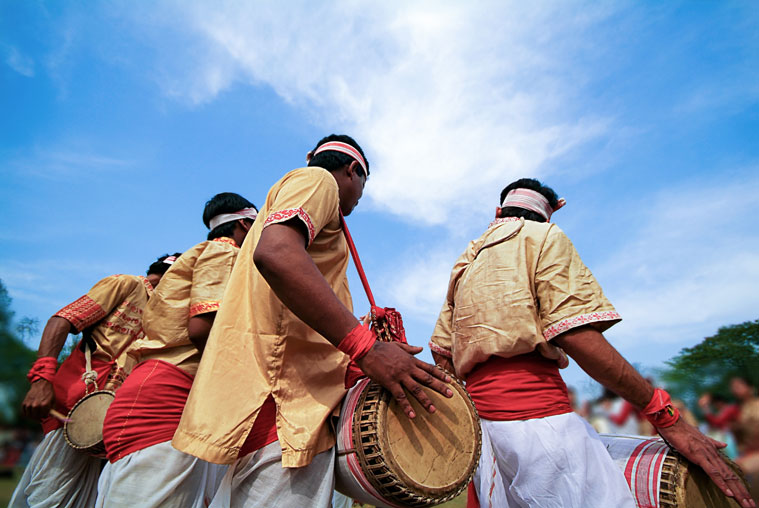 ---
|
Guwahati
|
Published 21.03.20, 07:15 PM
---
After 37 years, the capital city of Assam is set to miss Rongali Bihu public celebrations this season, with the Greater Guwahati Bihu Sanmilani Coordination Committee, a coordination committee of 26 Bihu committees of the city, deciding to call off the programmes to discourage mass gatherings and break the chain of the coronavirus pandemic.
The last time a similar decision was made was in 1983, when the Assam Agitation was at its peak.
Rongali Bihu is Assam's biggest festival, marking the beginning of the Assamese New Year in mid-April. Bihu cultural nights are common across the state where hundreds assemble to enjoy the festivities with performances by their favourite singers.
Adviser to the Greater Guwahati Bihu Sanmilani Coordination Committee, Kailash Sarma, told The Telegraph: "It was a unanimous decision taken by all the Bihu committees of the city on Friday night. To prevent the deadly coronavirus, one of the most important things is to minimise social gatherings and isolation. Since thousands of people gather in all the Bihu functions, we had to make the tough decision for public safety."
He added the Guwahati Bihu Sanmilani of Latasil, the state's oldest Bihu committee, would hoist the traditional Bihu flag on the morning of April 13 if government permits. "The coordination committee also appeals to all Bihu committees of the state to follow suit and cancel their Bihu functions to stop the virus from spreading," Sarma said.
The coordination committee also urged the state government to support the artiste community who wait for the Bihu programmes to make some extra income by performing. "The government must come up with some kind of financial aid to the artistes and musicians who are basically living on Bihu function earnings," Sarma said.
Singer Zubeen Garg has appealed to the people of the state to stay home and avoid large gatherings in the wake of the threat posed by the coronavirus outbreak.
In a Facebook post, he said: "Be with your family, read books, watch films, complete your unfinished sleep, take rest, learn to play some new songs. Your staying home will break the chain of the virus and strengthen the chain of bonding in your family." He asked all not to panic or spread rumours related to coronavirus.
"If you have any travel history in the last one month outside your locality (not necessarily abroad, but anywhere where positive cases have been confirmed), then report to the health officials. Do not shake hands or make any physical contact. If someone is sneezing near you, go away. Once you save yourself, make others aware of the disease and the instructions to follow," Zubeen said.