Govt-run madarsas, tols to be shut down
Sarma said madarsas, high madarsas and Sanskrit tols would be converted into high and higher secondary schools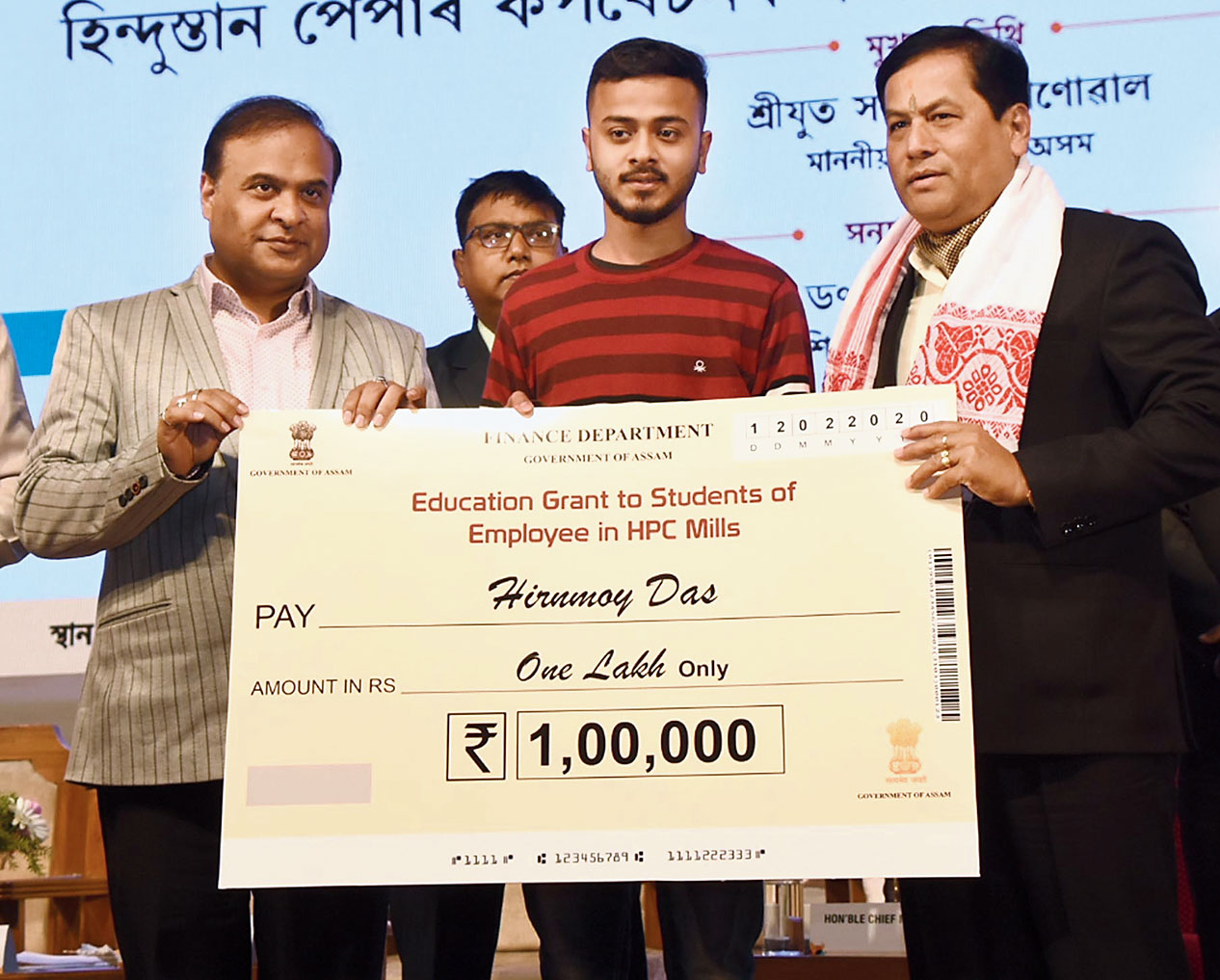 Himanta Biswa Sarma and Sarbananda Sonowal present a cheque to a student of a paper mill employee in Guwahati on Wednesday
Picture by UB Photos
---
Guwahati
|
Published 12.02.20, 07:10 PM
|
---
Dispur on Wednesday said it would close down government madarsas, high madarsas and Sanskrit tols because it was not the duty of the state government to impart religious education.
"We will close down government madarsas, high madarsas and Sanskrit tols. We have already taken a decision in this regard because it is not the duty of the government to teach Arabic or some other language or religious scriptures," education minister Himanta Biswa Sarma said here. The decision will be implemented within four to five months, he added.
Sarma said the madarsas, high madarsas and Sanskrit tols would be converted into high and higher secondary schools. "Someone can teach religious scriptures from his own money but the government will not do that," he said.
Sarma said the teachers who used to teach religious scriptures would not lose their jobs. "They will get salaries sitting at home," he said.
At present, there are 614 recognised madarsas in Assam — 57 for girls, three for boys and 554 co-educational — and 17 under Urdu medium.
Assam has nearly 1,000 recognised Sanskrit tols, of which around 100 are government-aided.
Reacting to the development, All Assam Minority Students' Union (AAMSU) adviser Azizur Rahman said Article 29 and 30 of the Constitution give the right to the minorities to pursue religious education.
"Besides, madarsa education has been in the country before Independence," he said.
The education department on Wednesday also distributed one-time educational grant to children of employees of Cachar and Nagaon paper mills for pursuing higher education, financial assistance of Rs 7,000 for mess bills of those students staying in hostels of government or provincialised colleges and universities.
Chief minister Sarbananda Sonowal,who attended the programme, urged the students to move ahead in life with discipline, modesty, decency and follow spiritual and value-based teachings of Srimanta Xankardeb.
He also asked parents and teachers to inspire and guide students in building robust character which is filled with respect, devotion, compassion and obedience.
Sarma also said college teachers had no right to take classes by staying far away from their colleges. Sarma said on Tuesday that the education department had introduced an attendance tracking system for the teachers in Darrang district. He said he had received messages from at least six teachers complaining about the system.
"One says he works in Mangaldoi but stays in Guwahati and asked how he will take classes on time. Why is a teacher working in Mangaldoi staying in Guwahati? They do not have right to do that," Sarma said.
The distance between Guwahati and Mangaldoi is around 70km.
Sarma also criticised the college teachers for joining protests against the Citizenship (Amendment) Act without having a proper understanding of the subject. He said teachers should take "informed decision".