Gogoi slams BJP government on coal mining
Tarun Gogoi also accused Sonowal of trying to create a rift in society by dividing the people in the name of religion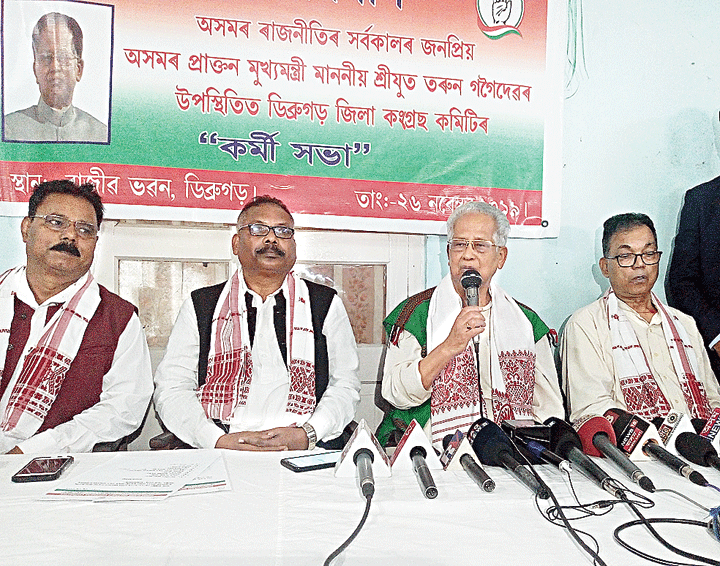 Tarun Gogoi at the news conference in Dibrugarh on Tuesday.
Picture by Avik Chakraborty
---
Dibrugarh
|
Published 26.11.19, 08:22 PM
|
---
Former Assam chief minister Tarun Gogoi on Tuesday came down heavily on the BJP government "for running a syndicate of illegal coal mining under the patronage of chief minister Sarbananda Sonowal".
Addressing a news conference at Rajiv Bhawan here, the Congress leader alleged that illegal coal mining has been rampantly going on under Sonowal's patronage.
"Everyday illegal coal-laden trucks are plying on the roads. Though the chief minister knows everything, he remains silent. The Coal India Ltd sends all its coal through trains. But hundred of trucks loaded with coal ply in Tinsukia every day. Recently, members of a marriage party were killed in an accident with a coal-laden truck," he said.
"Some officials of Coal India Ltd are hand in glove with the coal mafia in Tinsukia. The illegal mining process is harming the ecology. Dehing Patkai hill has lost its greenery because of illegal coal mining," Gogoi alleged.
He accused Sonowal of keeping silent on the matter.
"The Sonowal government is giving patronage to the coal mafias of the region. After knowing everything, the government is not taking any step against the smugglers. After the BJP came to power, illegal coal smuggling has been going on openly," Gogoi alleged.
Recently, Congress MP Pradyut Bordoloi had claimed that 4,000 to 5,000 rat-hole coal mines had sprung up in Assam over the past three years and that too in 11 reserved forests and a wildlife sanctuary.
Bordoloi had alleged that the coal mafia, aided and abetted by Tinsukia district administration in Upper Assam, was systematically destroying the forest.
Gogoi also accused Sonowal of trying to create a rift in society by dividing the people in the name of religion.
He also slammed the Narendra Modi government for destroying the secular fabric of the Constitution.
Taking a jibe at Sonowal and finance minister Himanta Biswa Sarma, Gogoi said both of them were doing everything possible to make home minister Amit Shah happy.
"Their are lots of problems in society but Sonowal is busy organising fairs and festivals in Assam. The government came to power by promising jobs for the unemployed but it failed to do so. The BJP has failed to fulfil its promises and the aspirations of the people," he alleged.
Gogoi reiterated his allegation that the Centre had created the issue of countrywide NRC to divert public attention from the BJP's failures and claimed that it would turn out to be a "big joke".
He also slammed the government for not taking care to prepare an error-free final list. He said instead of updating the NRC in Assam again, the government should take measures to correct it.
BJP Dibrugarh MLA Prasanta Phukan denied all the allegations.
He said if the Congress leaders have proof of illegal coal mining syndicate, then it should come out and present the same.