Gauhati University degrees for 2534 students at convocation
The varsity conferred honorary DLit and honorary doctorate on writer Arup Kumar Dutta and sculptor Biren Singh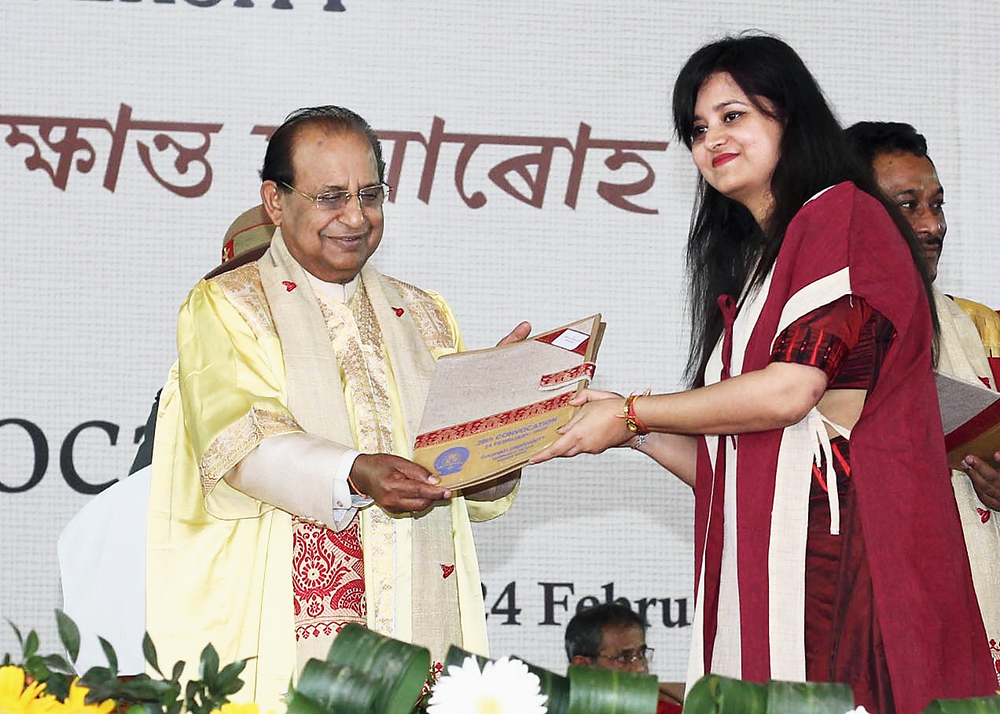 ---
|
Guwahati
|
Published 24.02.20, 07:08 PM
---
The Gauhati University held its 28th convocation on Monday at the university playground. Vice-chancellor Pratap Jyoti Handique termed it "the largest convocation" in the history of the university in terms of number of degree recipients.
Altogether 2,534 students were given certificates of graduation, diploma, post-graduation besides DSc, PhD (doctoral) and MPhil degrees across various disciplines.
The university also conferred honorary DLit and honorary doctorate on writer Arup Kumar Dutta and sculptor Biren Singh respectively.
Governor and chancellor of the university Jagdish Mukhi presided over the convocation ceremony. Former vice-chancellor of Jawaharlal Nehru University Sudhir Kumar Sopory was the chief guest.
Mukhi said India's primary challenge continued to be "poverty" and "uneven access to education and healthcare" for which there was a great need to transform school education at the national level.
He advocated the need for quality education for which a curriculum that is both knowledge-oriented and skill and job-oriented must be drafted.
He recalled the contributions of luminaries, including Gopinath Bordoloi, Fakhruddin Ali Ahmed and Krishna Kanta Handique, who were instrumental in shaping the university. He also talked about the key areas of the new education policy which, he said, "envisions an India-centred education system that contributes directly to transform the nation into an equitable and vibrant society."
He also called for quality education for all. He stressed the importance of vocational education and the need to infuse technology at all levels of education for a better teaching-learning process.
Referring to challenges for the university he said, "It has to adapt to the growing needs of the education system by making the faculties undergo regular training and self-improvement programmes."
Sopory talked about the hurdles the students community faces in accessing quality education. He highlighted development in the field of technology and how artificial intelligence, nano-technology and genetic engineering are witnessing radical growth. He stressed the need for knowledge creators and service providers and advocated trans-disciplinary teaching and research to broaden the horizon of students, think beyond self and be innovative.
Handique said the university is acting as a catalytic agent in promoting education and sustainable development by being a centre of academic excellence in the northeastern region.