Forgotten mission to rescue Meghalaya miners ends
The rescue-and-retrieval mission in East Jaintia Hills was formally called off on Friday after the Supreme Court gave permission to do so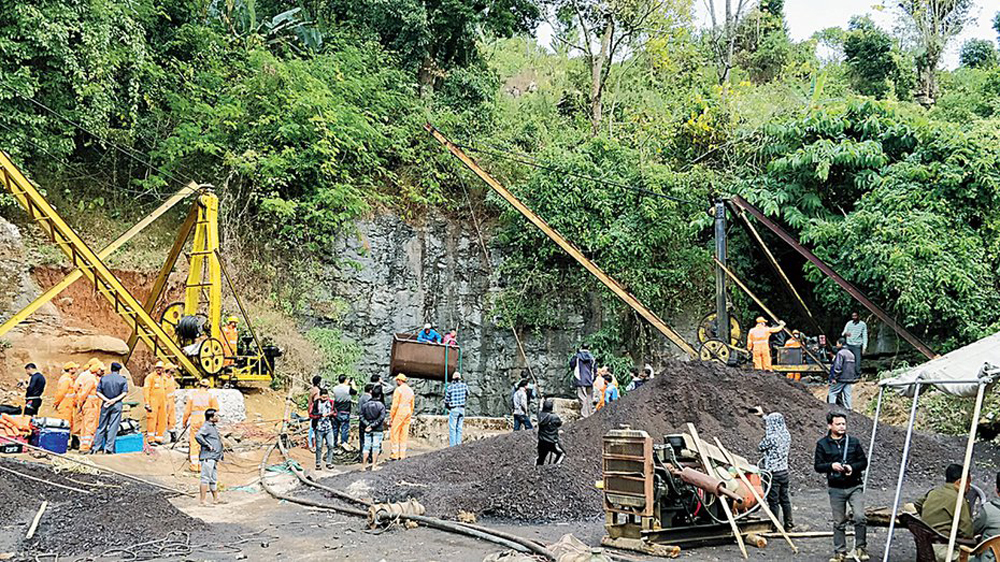 Rescue work in progress in Meghalaya's East Jaiñtia Hills
A Telegraph file picture
---
Shillong
|
Published 13.07.19, 06:05 AM
|
---
Unknown to many in the rest of India, a coalmine rescue operation was officially going on for the past 211 days, or seven months, in Meghalaya.
The rescue-and-retrieval mission in East Jaintia Hills, where 15 miners are feared trapped in an illegal rat-hole pit, was formally called off on Friday after the Supreme Court gave permission to do so.
The miners were trapped on December 13, 2018. The issue reached the Supreme Court in January this year following allegations of sluggish official response to the accident because the mine was illegal.
Rat-hole mining is a punishing task, involving cramped and claustrophobia-inducing tunnels that are little more than rat holes.
Eventually, Coal India, Kirloskar Brothers, the Indian Air Force and the Indian Navy joined the rescue operation, which was hampered by flooding.
The navy and several others left after retrieving two bodies while Coal India, Kirloskar Brothers and KSB, a Pune-based German company that helped with pumping out the water, stayed on.
The first body, detected by a remotely operated vehicle of the navy on January 16 and retrieved on January 24, was that of Amir Hussain from Assam's Chirang district. Hussain's family identified him from the amulets he had worn. The second body, retrieved on February 27, was that of L. Dimonme Dkhar, a resident of the nearby Lumthari village.
Sayeb Ali, from Assam's Chirang district, was the only person who escaped from the mine accident.
The miners' relatives have been distributed around Rs 3 lakh each as compensation.
Around Rs 3.5 crore had been incurred on the rescue operation till May, East Jaiñtia Hills deputy commissioner F.M. Dopth said on Friday. The amount may go up as contractors, suppliers and others will be submitting bills.
The Centre had told the court that it had to "believe in miracles" for the other miners to come out alive.
The longest recorded survival by trapped miners has been by the "The 33 of San Jose", who had come out alive after 69 days from a copper-gold mine in Chile in 2010.
On Friday, Meghalaya advocate-general Amit Kumar appeared before the Supreme Court and requested permission for the state government to formally end the operation. "The court allowed the application and permitted the state to stop the operations. All
other prayers, including compensation, have been given up by the petitioner," Kumar said.
The petitioner was represented by senior advocate Anand Grover, who was in the news on Thursday after the CBI launched controversial raids on his home and the NGO he had co-founded with his wife and senior lawyer Indira Jaising.
Grover did not oppose the Meghalaya government's plea but sought a standard operating procedure in case of another eventuality. The bench will take up the request after four weeks. 
Additional reporting by PTI