Flood situation worsens in Assam
Rain and thundershowers are likely in many places in region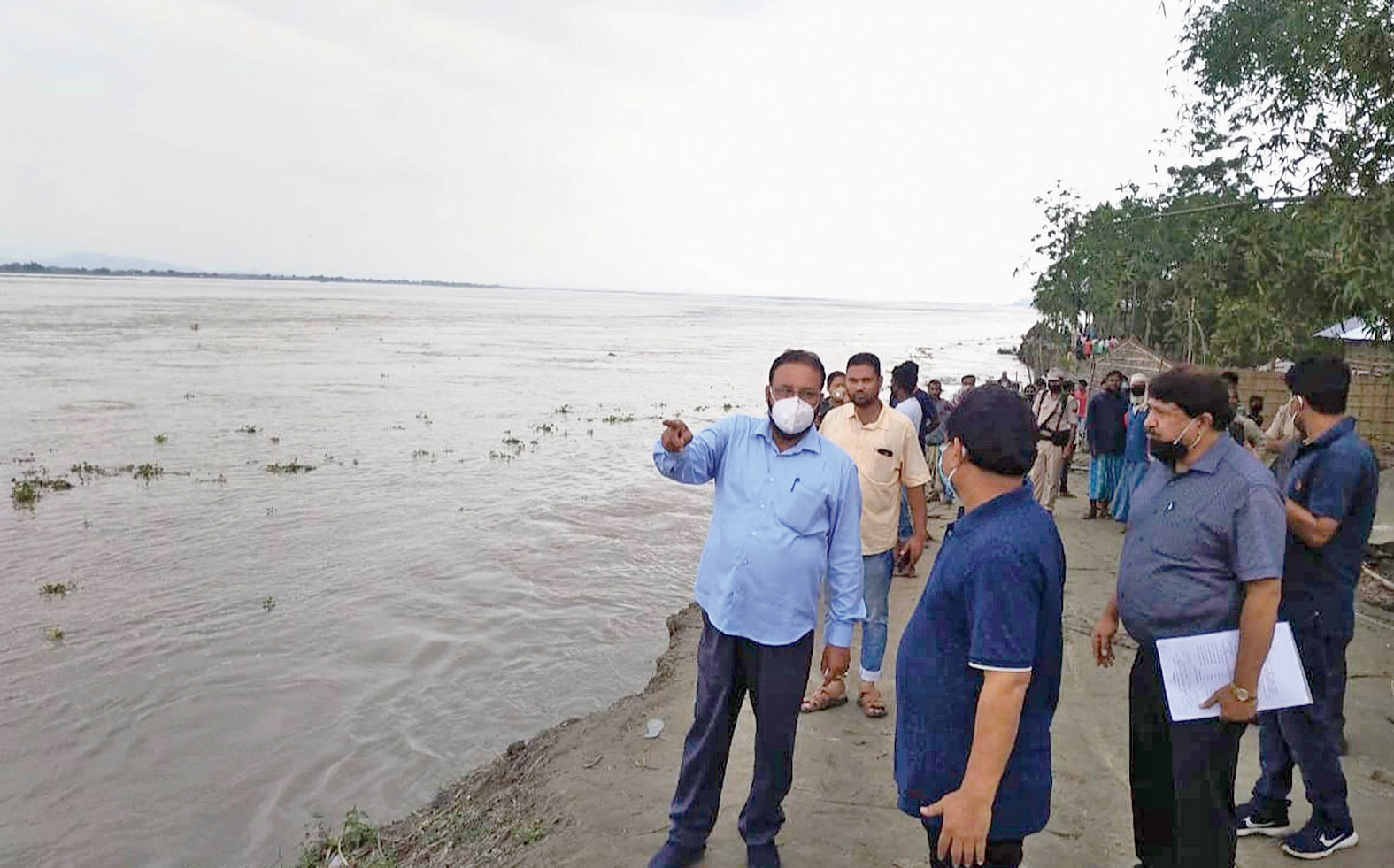 ---
|
Guwahati
|
Published 24.05.20, 08:36 PM
---
The flood situation in Assam worsened on Sunday as three more districts were hit by the deluge following heavy rainfall. Continuous release of water by the Neepco's Ranganadi project worsened the situation in Lakhimpur district of Upper Assam.
It is the third day of the first wave of floods in Assam affecting three more districts — Sonitpur, Darrang and Goalpara in lower Assam, according to a bulletin issued by the Assam State Disaster Management Authority (ASDMA) on Sunday evening.
Incessant rain washed away a state highway at Singri which connects Agia to Lakhipur road inundating several villages under Lakhipur revenue circle in Goalpara district.
The meteorological department has sounded an alert. Rain/thundershowers are very likely to occur at most places in Arunachal Pradesh, Assam and Meghalaya and at many places in Nagaland, Manipur, Mizoram and Tripura.
Altogether seven revenue circles of four districts were affected on Sunday. Altogether 10,801 people and 13,448 head of cattle were affected in 46 villages.
Over five lakh hectare croplands have been swamped by the floods.
Rescue operation was launched by the SDRF and the NDRF in Goalpara district where four boats have been pressed into service. A relief distribution centre was opened in North Lakhimpur.
As Neepco continues to release dam water for the third consecutive day, flood situation worsened in Lakhimpur district due to incessant rain in the last 24 hours which left more areas inundated. Over 10 schools were submerged in Lakhimpur district.
Sonowal visits Demow: After visiting a quarantine centre at Demow Polytechnic Institute in Sivasagar on Sunday, chief minister Sarbananda Sonowal said: "I have already directed all deputy commissioners to set up separate cells to carry out relief and rescue operations expeditiously during floods."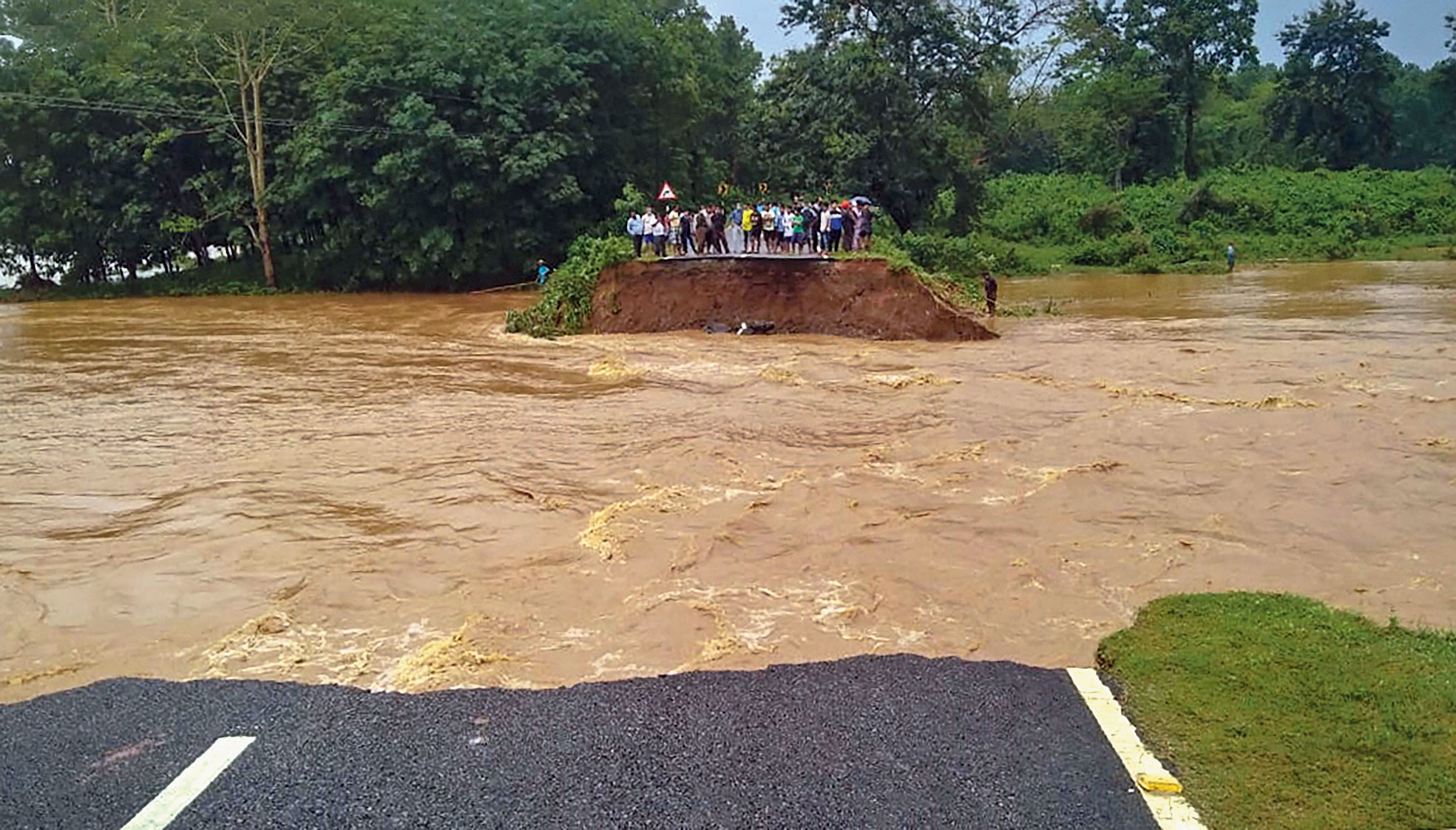 Siang water: Due to torrential rainfall, the water level of the Siang river on Saturday was 150.44m which was below the danger mark (153.96m).
There was heavy downpour in the hilly areas due to which major tributaries of the Siang are likely to be in spate.
However downstream Brahmaputra wreaked havoc in Dhemaji district inundating nearly 30 villages.
The deputy commissioner of East Siang district, Kinny Singh, on Sunday in an advisory directed all the officers concerned to be on alert and take necessary measures to deal with the situation. Singh instructed them to keep a watch on the flood situation and guide people. He also asked the health department to keep life-saving medicines readily available.
According to weather forecast, there is a chance of light to moderate rainfall in most places and isolated heavy to very heavy rain in East Siang district.
Additional reporting by Devajit Baruah in Jorhat and Vinod Kumar Singh in Dhemaji