Local groups to monitor home-quarantined in Asssam
State health depends on public: Himanta Biswa Sarma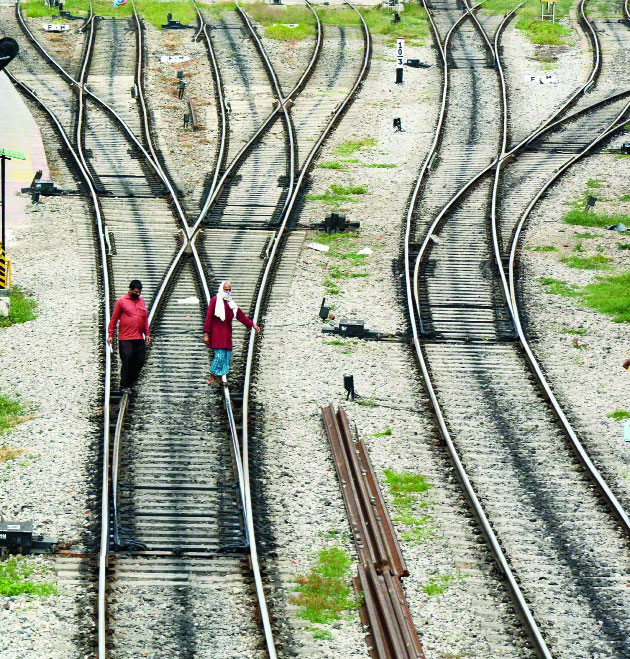 Crossing paths: Workers cross the railway tracks in Guwahati on Monday.
Picture by UB Photos
---
Guwahati
|
Published 11.05.20, 07:28 PM
|
---
The Assam health department, which is facing a major challenge with those in home quarantine flouting guidelines, has decided to form local committees to monitor the process to prevent derailing of the state's recovery from Covid-19.

Health minister Himanta Biswa Sarma, expressing his concern on Monday said only strict compliance with the guidelines can help the state to do better.
The department has been receiving several complaints of persons in home quarantine being seen outside their houses and engaging in arguments when health officials ask them not to go out.
Sarma said, "It's worrying that many who were sent to home quarantine are reportedly flouting the norms and roaming outside. In many cases, the family members are also seen outside their house. It will only create an environment of panic and tension." He advised the family members, who are living in the same room with those in home quarantine, not to go out. He also asked the people to report to police or the health department immediately if they see a person with home quarantine stamp on his hand outside.
He said the state, with the help of district administrations, would form local committees to monitor strict compliance of home quarantine guidelines. The health department has already directed the deputy commissioners to take the required steps and is likely to pass a notification on Tuesday. The district administrations have been asked to arrange essentials for those in home quarantine and their families at their doorsteps so that they don't need to go out.
He also sought the people's support to monitor it in case of those who will be returning to Assam on special trains. "We need public support and understanding to deal with the situation," he added.
Sarma said since the lockdown has been eased for public utilities, the people will need to follow the safety guidelines. "It's a huge challenge for the entire state and now each one of us needs to support the other," he stressed.
Sources said the state health department had kept Baksa, Chirang, Kokrajhar and Udalguri districts in lower Assam on Covid surveillance and had advised any person suspected to be infected to report immediately to the nearest health centre.
Till Monday, 9,478 persons who came in contact with Covid-19 positive cases were identified and kept under home surveillance as they were asymptomatic.
In Guwahati, the Kamrup (metro) district administration is using a mobile app-based solution, COVID Suraksha, to monitor round-the-clock the status of every home-quarantined person and the surveillance team responsible for the person. "Though every quarantined person was assigned to a surveillance team of health workers, there was no proper mechanism available with the district administration to monitor the functioning of the surveillance team, like whether they visited every quarantined person," an official source said.