Directive for graft action
Two cases have already been registered in Algapur police station in connection with the incident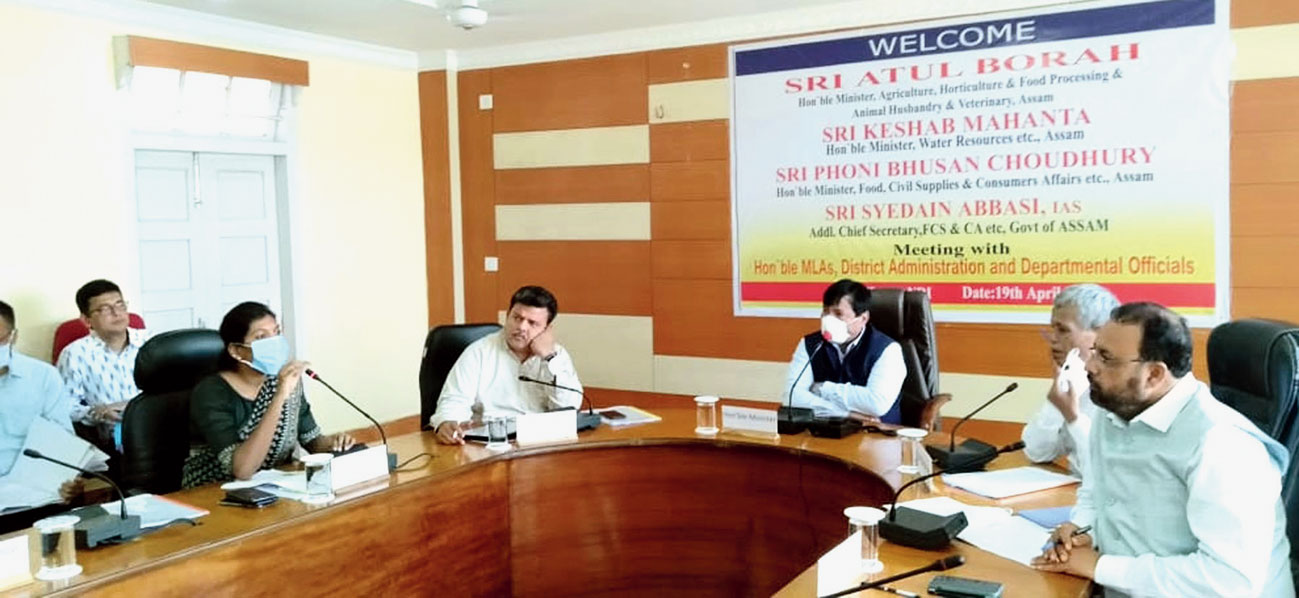 ---
Hailakandi
|
Published 19.04.20, 07:33 PM
|
---
Assam food and civil supplies minister Phani Bhusan Choudhury on Sunday asked Hailakandi deputy commissioner Keerthi Jalli to file an FIR against those involved in the embezzlement of rice allotted to Mohanpur Gaon Panchayat Samabay Samiti.
The directive came after Algapur AIUDF legislator Nijamuddin Choudhury demanded the arrest of Hailakandi AGP president Aftab Uddin Laskar for his alleged involvement in the embezzlement of rice valued at Rs 40 lakh. Laskar is the Samiti secretary.
Choudhury, accompanied by agriculture minister Atul Bora and minister for water resources Keshab Mahanta, on Sunday reviewed the Covid-19 situation in the Barak Valley districts of Karimganj, Hailakandi and Cachar, along with legislators, district administration, officials of line departments and traders.
According to the Hailakandi administration, Laskar, in connivance with some fair price shop dealers, had allegedly lifted 1,858.2 quintals of rice from the FCI godown on February 23. The rice was allotted to the Samiti for March for distribution to 33,315 NFSA beneficiaries.
Two cases have already been registered in Algapur police station in connection with the incident and three persons have been arrested, according to Hailakandi superintendent of police Pabindra Kumar Nath.
Jalli told Choudhury that steps are being initiated to distribute the recovered rice to eligible beneficiaries and weed out fake ration card-holders. Choudhury directed officials to take punitive measures against anybody hoarding or hiking prices.
Surprisingly, Choudhury did not attend the scheduled media briefing in Hailakandi while Bora and Mahanta said action against those involved in the scam will be taken according to law.
Later, Nijamuddin lambasted Choudhury for not taking any action against Laskar.
Earlier, Mahanta asked officials to strengthen the embankments and plug the breaches before the onset of the monsoon. Officials informed there are six vulnerable points and apprised the minister about the ongoing work.
Bora asked Jalli to ensure that agriculture seeds to be made available for kharif season are properly distributed among the farmers. He said 75,000 farmers of the state would be given seeds.