1400 on train from Karnataka to Agartala
Police to seal the premises after the arrival of stranded at Agartala station to ensure every passenger is screened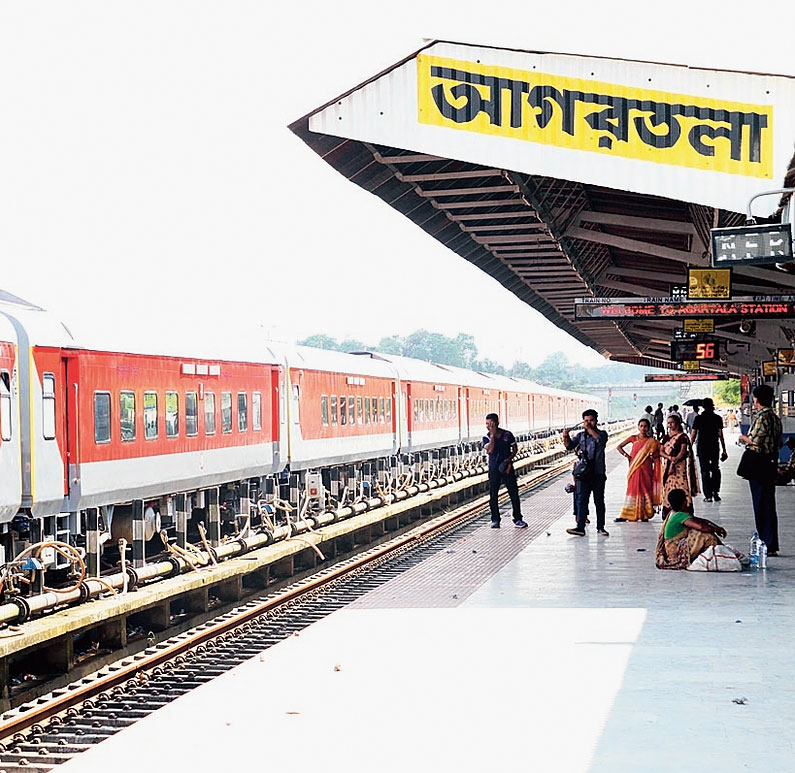 ---
|
Agartala
|
Published 12.05.20, 07:45 PM
---
Tripura law minister Ratan Lal Nath on Wednesday said nearly 1,400 people will arrive here by train from Karnataka.
The train started its journey a couple of days back.
More trains from Karnataka, Maharashtra and Tamil Nadu carrying stranded people would soon begin their journey to Agartala, he added.
Nath said, "A train from Karnataka carrying 1,400 people will reach here tonight. Another train will leave soon from Karnataka with another 1,400 people. The date could be May 14 or 15 but it will be finalised after discussions. On May 15, a train will leave Tamil Nadu with more than 1,000 passengers. Our state government will bear all the travel costs of the stranded people."
He also said they are in touch with the Maharashtra government to bring back stranded people to Tripura.
"More than 1,400 stranded people will return from Maharashtra. However, the date has not yet been fixed. We are in touch with the Maharashtra government. We have requested them to issue passes to those who want to return to Tripura in their vehicles. Around 100 passes have been already issued," Nath said.
The police will seal the premises after the arrival of the stranded people at Agartala railway station on Wednesday to ensure every passenger was screened.
"The platform will be sealed and nobody will be released without screening. The train coaches would be opened one by one. All passengers will have to undergo thermal screening. Those exhibiting Covid-19 symptoms will be kept separately and those asymptomatic will be put in home quarantine. The chief medical officers and police will be present," the minister told reporters.
Nath said his government had requested the Centre to provide trains to bring back stranded people from West Bengal and Assam. However, a decision was not yet taken in this regard, he added.