Probe against dealers sought
Locals alleged that the two dealers distributing rice were continuing with their unethical activities even during lockdown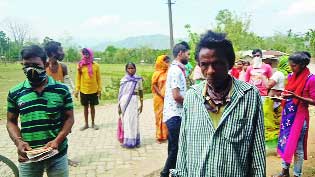 Beneficiaries queue up outside the Salganga Co-operative Society in Cachar.
(Swapnaneel Bhattacharjee)
---
Silchar
|
Published 18.04.20, 08:13 PM
|
---
The residents of Thaligram and neighbouring villages under Udharbond Assembly constituency in south Assam's Cachar district have demanded a high-level probe into alleged corruption by some dealers of Salganga Cooperative Society in distribution of rice under the National Food Security Act (NFSA).
The NFSA aims to provide subsidised foodgrains to approximately one-third of India's 1.3 billion people. It came into effect on September 12, 2013.
Residents alleged that two dealers of the society, Babul Paul and Ranjit Roy, have been involved in corrupt activities for years but any investigation into their conduct was never carried out. According to government guidelines, a beneficiary should get 5kg rice per month under the NFSA, but the amount was reduced by around 400gm to 500gm by the two dealers, locals alleged.
The society, located around 18km from Silchar town, caters to many villages including Thaligram, Kumbha, Salganga, Kumbhirgram, Khaspur and Ainacherra.
Locals alleged that the two dealers were continuing with their unethical activities even during the critical lockdown period when people, especially the economically weak, are facing starvation and other problems. "People are suffering from financial problems and starving but they (the two dealers) are continuing their immoral practices," a resident said.
The residents demanded a high-level probe into the matter and action against the "corrupt" dealers.
The dealers could not be reached for their comments.
Society chairman P. Kar said he had learnt about the complaints of the beneficiaries and that the matter would be investigated thoroughly. Necessary measures will be taken to resolve the issue, he added.