Muslims cremate Hindu lady in Dhubri
Humanity bridges religious divide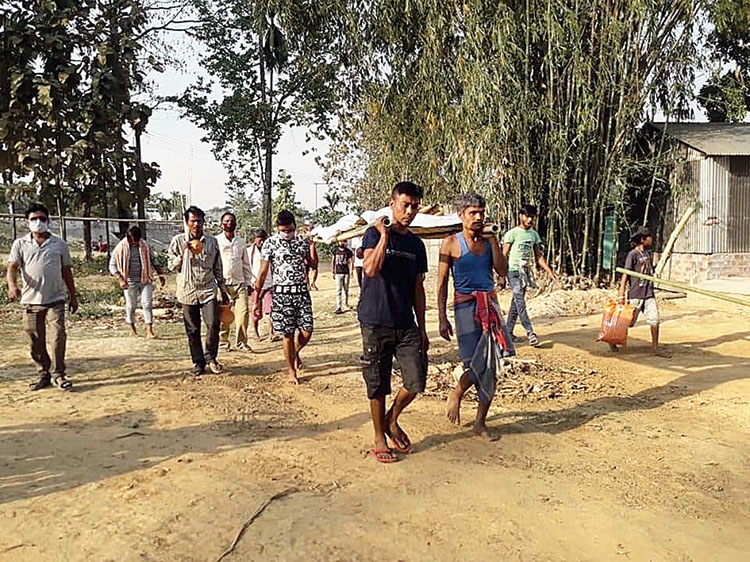 ---
|
Dhubri
|
Published 02.04.20, 08:36 PM
---
Death is a great leveller and so is coronavirus, it appears, dissolving stringent social barriers.
In Dhubri district of Assam, about 25 members of the Muslim community, led by the local unit of the All Assam Minority Students Union (AAMSU), performed the last rites of their Hindu neighbour Shanti Choudhary on Wednesday as her relatives could not reach her house because of the nationwide lockdown.
Shanti, 75, widow of Doodhnath Choudhary, a resident of Panbari village, 20km from the district headquarters, died around 10am on Wednesday.
"Her family members, comprising her son, daughter-in-law and small grandson, informed their relatives but they expressed their inability to attend the last rites because of the lockdown," local leader and AAMSU organising secretary Dilower Hussain said.
"Seeing their problem, AAMSU members and locals gathered at her home and called a Hindu priest from a nearby village to perform the rituals at her home. Thereafter, Muslim men carried the bier, chanting what the Hindus do. We also arranged the pyre and other requirements for her last rites at Panbari cremation ground and cremated her in the evening following all Hindu rituals," Hussain said.
He said there are three Hindu families in the Muslim-dominated village. Shanti's son runs a small tea stall there.
The lockdown, put in place from March 24 midnight to contain Covid-19, is building emotional bonding amid social distancing.