Hurdles in LPG delivery
Although the oil companies have assured there was no shortage of LPG cylinders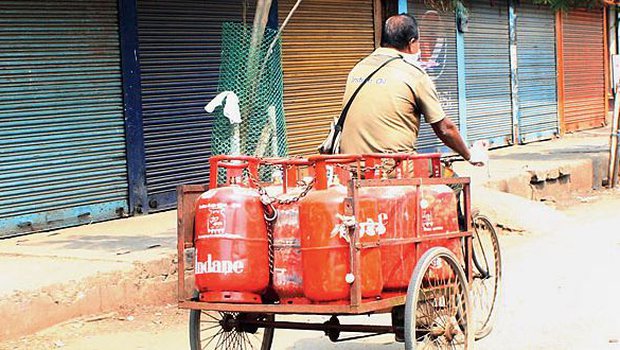 A delivery man carries LPG cylinders in Guwahati
(File picture)
---
Guwahati
|
Published 05.04.20, 06:52 PM
|
---
The delivery of LPG cylinders across Assam has been hit by twin problems — barricading of roads by people in towns and villages to prevent the entry of outsiders and delivery boys being allegedly looked down as "potential carriers" of the coronavirus.
"Matter has turned from bad to worse after the number of Covid-19 cases swelled in the state. Not one worker turned up for work today (Sunday)," said Probin Hazarika, general secretary, North East Indane Distributors Association, and gas agency owner at Dergaon in Upper Assam's Golaghat district.
"Customers are assuming the delivery boys could be potential carriers of the virus as they are going from one household to another, including places where residents have tested positive," he claimed.
"Customers are stopping delivery boys outside their gates and asking them to wash the cylinders with detergent. Moreover, they have to lift the barricades to reach interior areas. It is very time consuming," he said.
Hazarika's agency, which has 14,000 customers, has been facing a 50 per cent drop in attendance of delivery boys. The agency delivers around 300-350 cylinders daily but on Sunday they could not deliver even 100.
Although the oil companies have assured there was no shortage of LPG cylinders, the delivery boys are facing several hurdles.
Sandhan Gas Agency at Chatribari here, which has 30,000 customers, has been facing 30 per cent drop in attendance of delivery boys.
Proprietor Saurindra Dutta Chowdhury said, "The customers are defying all lockdown norms and flocking to our godowns to take delivery of cylinders thinking that there will be a shortage. We had to call the police to control the crowd."
Just before the announcement of the lockdown, many customers had booked in advance in panic but a regulatory policy created last month declined such requests through the central server on the company websites before the 15-day permitted cycle, Indian Oil Corporation sources said.
"For the last couple of days, we are trying to motivate our workers and truck drivers as they are unwilling to come to work because they fear of contracting Covid-19 during transportation and home delivery. So, we urged them to take all precautionary measures and keep doing their work as a service to the nation," a Bharat Petroleum Corporation Ltd official said.
Referring to them as frontline warriors, deputy general manager (LPG), IOC, Ranjit Borgohain, said the services rendered by the workers was invaluable and the public should appreciate their efforts and motivate them.
"We are offering food and rest at some of our petrol pumps along the highways for truckers as amenity centres or hotels are closed," he said.
"We will provide ex gratia of Rs 5 lakh in case of any Covid-related death while rendering service to showroom and godown staff, LPG delivery boys, truckers and transporters," he added.
IOC will also provide Rs 1 lakh medical insurance and Rs 2 lakh accident insurance to the workers and their families.
Gas agency owners are also giving employees extra benefits, safety materials and providing food to transporters bringing cylinders from distant plants to the godowns.