Flak for new tollgate at Nazirakhat
State govt, highways authority took step without any notice, say commuters and residents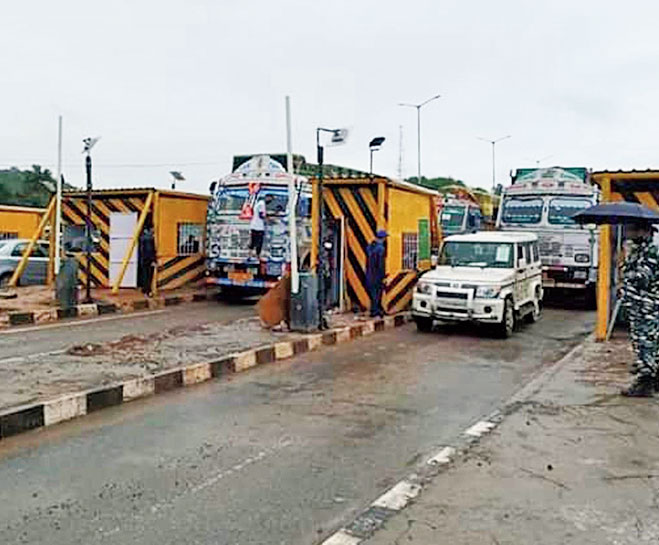 ---
|
Guwahati
|
Published 24.05.20, 08:24 PM
---
Commuters and residents of Sonapur near here have criticised the move by the state government and National Highways Authority of India (NHAI) to open a new tollgate on Sunday "without any notice".
With the opening of the Nazirakhat toll plaza, there will be two such gates within 100km of each other and people heading from Guwahati towards Nagaon or vice-versa will end up paying double the toll.
All Assam Students' Union general secretary Lurinjyoti Gogoi said the opening of the tollgate would increase the "economic burden" of the people of the state and the region amid the financial hardship during the lockdown.
"The government and the NHAI have not yet been able to complete the highway construction and now they have opened another tollgate. There are norms to establish tollgates but the government is not following any. There are tollgates in other states as well but their roads are not in such a bad condition as ours. Take the toll but only after improving the roads," he added.
He said the government has no right to take toll until and unless it completes road construction.
Sonapur residents said they would be forced to pay toll even if they just cross the gate for their daily necessities. Similarly, commuters said the move might affect the fares of buses and share taxis.
A commuter said as he needs to visit Nagaon frequently, he will have to pay double toll tax with two toll gates on a 100km stretch, around Rs 365. "It seems that the government is taking advantage of the lockdown," he added.
On May 14, the government and the NHAI opened the Mikirati toll plaza at Doboka in Hojai district. According to locals, the tollgate was suddenly opened in the morning without any notice.
Assam currently has six functional tollgates — Nazirakhat and Raha on NH 37, Pathgaon, Dahalpara and Madanpur on NH 31 and Mikirati on NH 36.