Assam moves fast to check coronavirus
Goverment shifts kin of affected to Sarusajai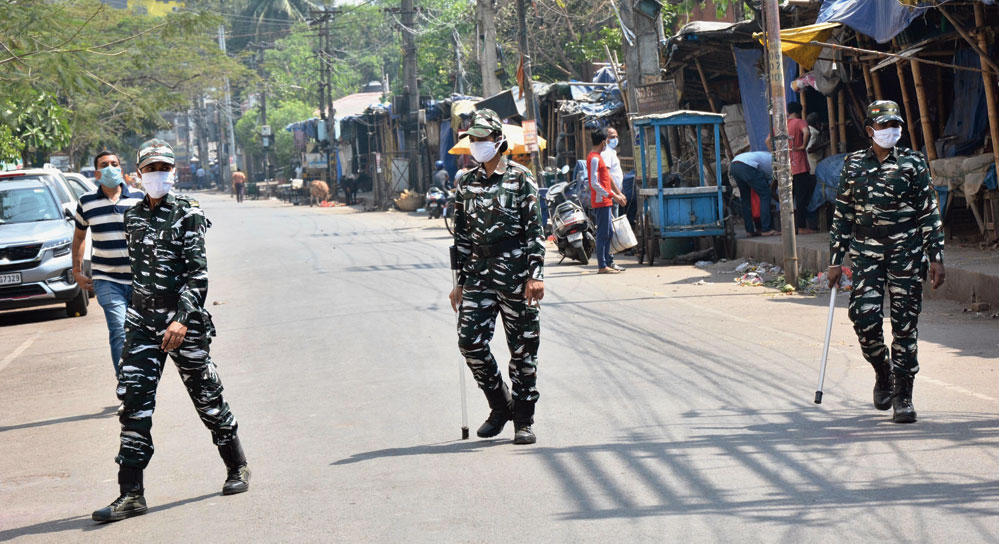 Women security personnel, sporting masks, patrol a street in Guwahati on Friday amid the lockdown.
Picture by UB Photos
---
Guwahati
|
Published 03.04.20, 09:11 PM
|
---
The Assam government has started moving the family members of those who tested positive after attending the religious congregation in Delhi last month to Sarusajai stadium here from Thursday midnight amid the nationwide lockdown.
At least 70 people, including women and children, have been placed in quarantine at the newly set up makeshift hospital at the stadium by the state health department. The stadium was converted into a makeshift hospital within a week to treat Covid-19 patients. It can accommodate around 1,000 people at a time. It has all the basic facilities along with round-the-clock medical assistance.
Assam health minister Himanta Biswa Sarma was present at the stadium when the people were being shifted on Thursday night. He was seen speaking to those being quarantined, asking them not to worry and assuring them of proper medical treatment.
A health official at the stadium said among those shifted were 47 from Nalbari and 23 from Jagiroad. All those from Nalbari were shifted from a local hospital. "All of them are relatives of those who have tested positive for coronavirus and came in direct contact with Covid-positive persons," he added.
Those in quarantine are asymptomatic so far. Their blood reports are awaited. "Since the numbers are rising, we are expecting more people to come," the official said.
Twenty people, all linked to the Tablighi Jamaat congregation at Nizamuddin Markaz in Delhi, have tested positive for coronavirus within the state so far.
Sarma said the state has slipped into a critical stage and the government was ready to take up the challenge. "It's good that we were prepared to tackle the situation. I thank all the medical staff and others who are working tirelessly," he added.
Mosques in Assam, including Burha Jame Masjid, one of the oldest mosques in Guwahati, closed their gates for Friday prayers. The masjid committee urged the people to offer Friday prayers at home.
Burha Jame Masjid's general secretary Nizamul Haque said, "It's time people understand that a careless attitude will not help. The virus doesn't know religion or boundaries. We appeal to all the Muslims of the state to adhere by the lockdown norms to save humanity which is the biggest religion."
The Burha Jame Masjid committee donated Rs 1 lakh to Assam Arogya Nidhi fund created to fight Covid-19.
In Hailakandi, the administration deployed security personnel in and around mosques. Most mosques were under lock and key while in some there were only a handful of devotees. "Not more than two or three persons came to offer prayers on Friday at a few mosques. Most of the mosques were locked. There was no call for prayer over loudspeakers," a police official in Hailakandi said.
Assam police have requested everyone going out in vehicles to ensure that they have valid reasons and proof. At least 930 people have been arrested and 3,632 vehicles detained so far for violating the lockdown. A few people, though far less that the previous lockdown days, were seen buying groceries and medicines on Friday.
The state police have also launched action against rumour-mongering over social media. The Union home ministry has asked the state governments to take effective measures against fake news.
"Stringent action is being taken. Already seven cases have been registered and four people arrested in the state so far," a police official said.
Army help
The army's Red Horns division provided a week's rations and essential supplies to poor families in Assam on Friday in view of the lockdown.
Lt Col P. Khongsai, public relations officer (defence), Guwahati, said the supplies were provided to families living a life of daily sustenance in Nalbari, Udalguri, Baksa and Barpeta districts.
Additional reporting by Mohsin Khaiyam in Guwahati