3 Nalbari girls hit social media gold
Song on coronavirus hit 5 lakh views on Facebook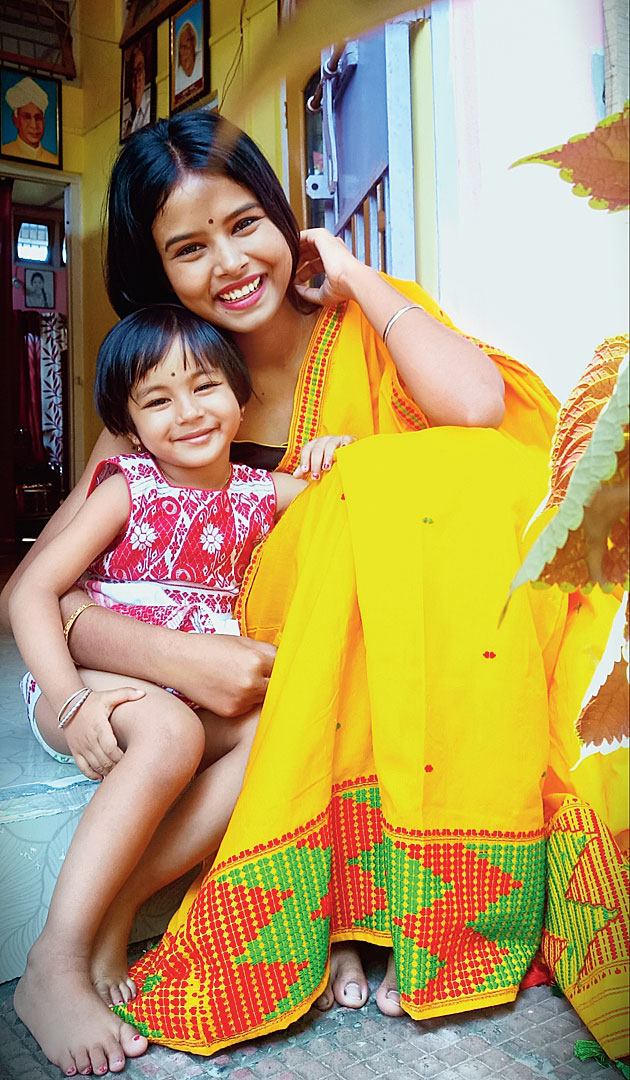 Social media stars Zeeu and Jyotismita.
Picture by Neelim Akash Kashyap
---
Nalbari
|
Published 26.04.20, 06:51 PM
|
---
Three students from this lower Assam town have taken the Internet by storm with lakhs of users viewing their videos on Facebook and Tiktok during the lockdown.
A class X student's song on coronavirus has hit five lakh views on Facebook, while the other two students' acting in short musical videos has also been widely viewed and shared on social media.
An Assamese song on coronavirus, sung by Jesika Raj, a class X student of Little Flower School here, and posted on the Facebook page Aamar Nalbari (our Nalbari), has been widely viewed and shared.
"I am very happy because the song has been widely shared. I sang it with an aim to spread awareness in the fight against the coronavirus pandemic," Jesika said.
She said the song, which goes like, Corona ahise dharakhan kapise rudhibo kone tak kowa (Corona is coming, the world is shaking. Who will save it?), was composed by her father Ajit Rajbongshi, who is also a writer. The tune has been adapted from the popular Badshah track Genda phul.
Lyricist Rajbongshi said, "I am happy the 'corona song', especially created for awareness against coronavirus, has been widely viewed and shared on social media. The song views the doctors and the nurses as God."
A short musical video, titled Life of a Woman, featuring students Jyotismita Deka and Saanvi Zeeu Kashyap, has been widely viewed on several social media platforms like Facebook, Instagram and Tiktok. The drama has over 357,000 views on Tiktok. Another video of the students, Thanks Lockdown, has also been widely viewed on social media.
Jyotismita is a class XI student of Nalbari College, while three-year-old Zeeu, studies in Ankur Shreni in Sankardev Sishu Niketan here. Zeeu is the daughter of Assamese writer Barnali Sarma Basistha.
Barnali told reporters, "Our little daughter Zeeu loves music and books a lot. We always encourage her to explore new things. As her mother, I am very happy and thankful to the users who viewed the videos."
Jyotismita said she was making musical videos daily with Zeeu during the lockdown period.
Jyotismita, who has acted in several Assamese short films, said: "Life of a Woman has received 357.8k views, 19.2k likes, 630-plus comments and 807 shares on Tiktok, while it has been widely seen in other social media platforms as well."