Coronavirus crisis: Assam tea gardens in alert mode
The government has told the industry that any outsider should be quarantined in the garden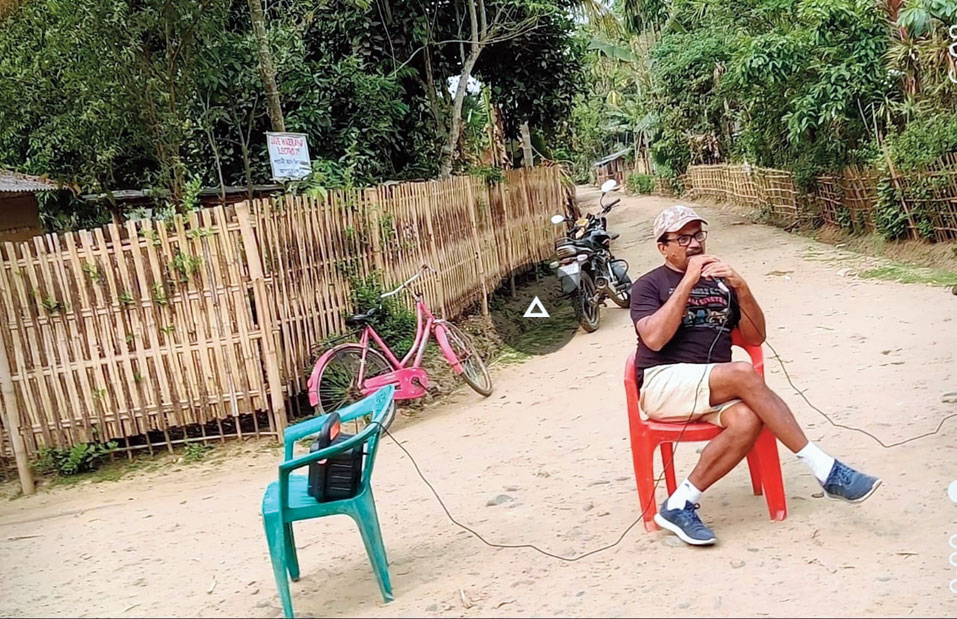 Dikom tea estate superintending manager Samar Jyoti Chaliha uses a loudspeaker to give instructions to workers
Telegraph picture
---
Guwahati
|
Published 29.03.20, 08:06 PM
|
---
With loudspeakers in their hands, the garden managers in Assam are visiting labour lines, announcing the dos and don'ts to workers on tackling the novel coronavirus pandemic.
Though there has been no corona-positive case in Assam till date, nobody is taking chances. With the tea gardens having large resident workforce, the managements are taking all steps to ensure that there is no slip-up. The Assam government has already told the tea industry that the garden managements have a huge role to play in this hour of crisis. The tea garden managements have been told to keep a watch on garden youths working outside the state, mainly in southern India, who are returning home in the tea gardens.
The superintending manager at Dikom tea estate in Dibrugarh district, Samar Jyoti Chaliha, is on the task of visiting the labour lines since the coronavirus news broke out.
"I have taken all my assistants, including a medical officer, two representatives of the union along with health assistants and visited all the lines. We announce the dos and don'ts prescribed by the Centre, Assam government and the WHO regarding hand washing, social distancing and others, including quarantine protocol," Chaliha told The Telegraph.
"All our entry and exit points to the garden are being closed and only people with emergency can go out giving details in a register kept with the chowkidars, Besides, announcing the dos and don'ts, I have also made a recording for the same and circulated among all people in the tea garden society like sardars, chowkidars and other volunteers," he added.
 The government has told the industry that any outsider should be quarantined in the garden and in case of slightest symptoms, immediately shifted to hospital.
The government has stressed that awareness needs to be created in the labour line and any suspected case should be reported by the line chowkidar and health assistant. Awareness banners need to be circulated in the weekly market.
Mrigendra Jalan of Jalan Industries says: "No one is allowed to go out of garden boundaries. We are treating an estate as a large quarantine area. There is regular random health check-ups with stress on aged people. There is door-to-door information-gathering in the lines and broadcasting of corona info by the government."