Bus falls into drain, 19 hurt
The vehicle was carrying passengers from Mancachar to Guwahati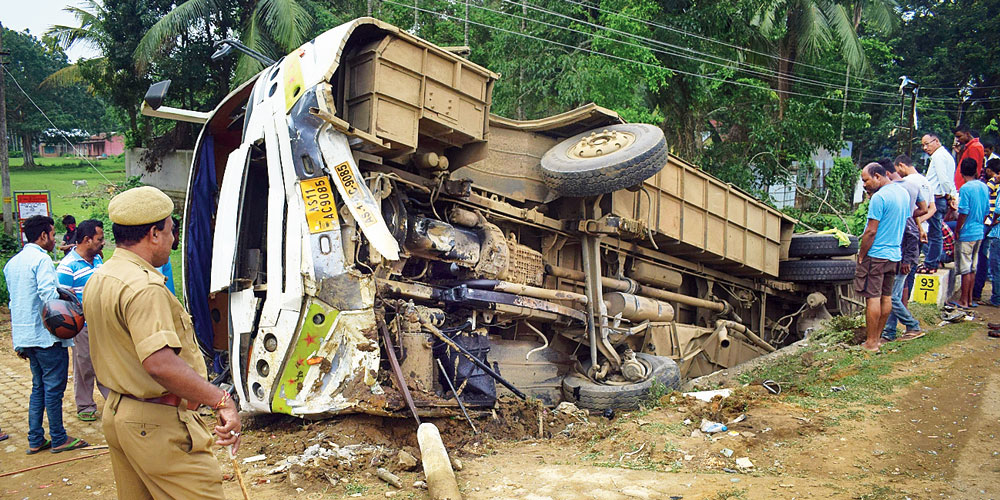 ---
|
Boko
|
Published 08.05.19, 07:18 PM
---
Nineteen passengers were hurt, five of them seriously, when a night super bus going from Mancachar to Guwahati overturned and fell into a roadside drain on National Highway 37 near Boko police station on Wednesday.
Boko police station officer-in-charge Jogendra Barman said the accident was caused by over-speeding and negligence.
Police personnel reached the site immediately and recovered the injured passengers and admitted them to the Boko first referral unit hospital. Later, five of the seriously injured persons were referred to Gauhati Medical College Hospital. The seriously injured persons have been identified as Sahabor Ali, 22, from Darrang, Jakir Hussain, 22, also from Darang, Nurul Ali, 31, from Mankachar, Jamirun Nessa, 25, also from Mankachar and Nasir Uddin Ahmed, 39, from Hatsingimari.
Mr Universe Golap Rabha, who is a resident of Kalibari village in Boko, said most accidents occurred because of drink driving, over-speeding and carelessness. He said the National Highways Authority of India has also not put up proper signage for directions in some places. "Hence, drivers fail to understand the condition of the road in some areas and meet with accidents," he said.