Deb bats for Shah stand on Hindi
Deb said more superspecialty hospitals would be set up soon for the poor people of the state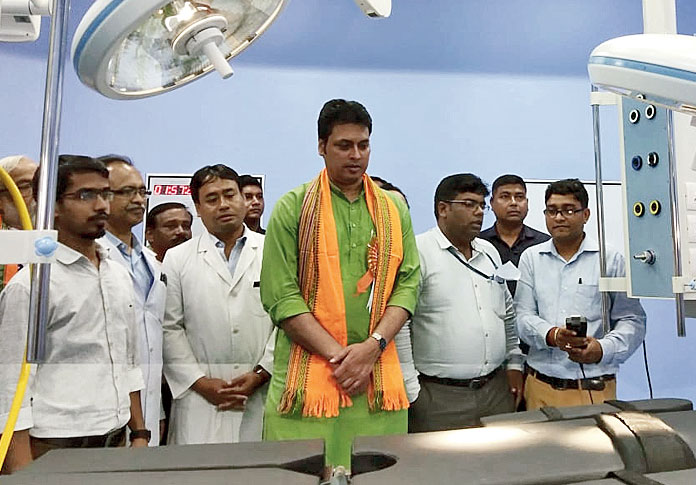 ---
|
Agartala
|
Published 16.09.19, 07:22 PM
---
Tripura chief minister Biplab Kumar Deb on Monday, supporting the statement of Union home minister Amit Shah on One Language, One Nation, claimed that if the British didn't rule India for 200 years, then there would have been no use of English in official work.
Inaugurating the Atal Bihari Vajpayee Regional Cancer Centre here, Deb said, "Home minister Amit Shah said our national language is Hindi, and there is nothing new in it. We are not against English. We use the English language as a medium only because we were under British rule for 200 years. Had the British not ruled India for 200 years, then there would have been no use of English languages in official work."
The government has set up the cancer centre at Rs 120 crore.
Deb said more superspecialty hospitals would be set up soon for the poor people of the state.
Revenue minister N.C. Debbarma and MP Pratima Bhowmik also attended the event.
Deb claimed that those who were opposing Hindi as the national language were people who had no affection towards the country.
"This is loyalty to the Colonial rule. Because of this, English is a status symbol for many people. It is not that only English-speaking nations progress. Had that been the case, Germany, China, Japan, Russia and Israel would not have developed. A country can also develop without English," Deb said.
He urged government officials to take help from those familiar with the native language when a person who doesn't speak English visits to receive a service from the government institutions.
"I have seen that if a person comes for help in the government offices and speaks in Bengali or in Kokborok, the officials take time to help them but as soon as you request them in English, they do the job quickly. This should not be done," the chief minister said.
Deb made it clear that he was neither against English nor was he trying to impose Hindi.
"I am supporting Hindi as the national language as maximum citizens of our country speak in the language," Deb added.
Deb also blamed the opposition political parties for not supporting triple talaq.