Bandh hits life in lower Assam
The agenda was to oppose any move to upgrade the Bodoland Territorial Area Districts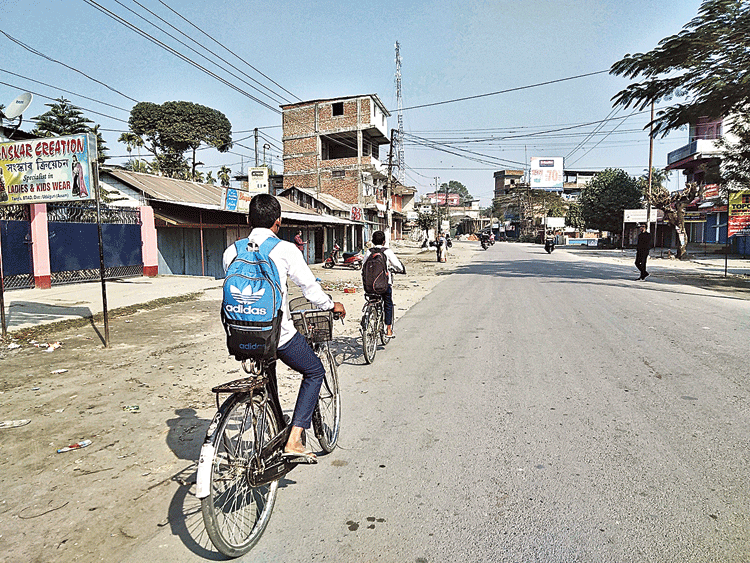 ---
|
Udalguri
|
Published 27.01.20, 08:22 PM
---
A 12-hour statewide bandh called by non-Bodo organisations on Monday against the government's move to expand the area governed by the Bodoland Territorial Council (BTC) hit life in several districts of lower Assam.
The bandh was called by various organisations, including the All Koch Rajbongshi Students' Union (AKRSU), All Assam Nath-Yogi Students' Union, All BTC Minority Students' Union (ABMSU), All Adivasi Students' Association of Assam (AASAA), Oboro Suraksha Samiti and All Kalita Janagoshthi Students' Union.
They were opposing any move to upgrade the Bodoland Territorial Area Districts (BTAD), now comprising Kokrajhar, Baksa, Udalguri and Chirang, in lower Assam to parts of Sonitpur, Biswanath and Lakhimpur districts.
While the bandh evoked full response in Bongaigaon, Udalguri, Baksa and Sonitpur districts, it had a partial impact in Chirang district.
AKRSU activists burnt tyres on the main roads in Bongaigaon, on the national highway in Chirang and at Kalaigaon in Udalguri district to enforce the strike. ABMSU also burnt tyres in Udalguri district. AASAA's Bongaigaon unit burnt an effigy of Union home minister Amit Shah in protest against the signing of the Bodo Accord with Bodo groups without consulting the non-Bodo communities living in the BTAD in lower Assam.
No untoward incidents were reported from Baksa and Sonitpur.
In Chirang and Kokrajhar, Bodos welcomed the agreement with sweets and fire crackers. The Bodo people expressed gratitude to the Union and state governments for the achievement.
AKRSU's Udalguri unit president Hemanta Bora Koch said, "We oppose any grant of special status which not only grants autonomy to the council but also abridges the rights of other non-tribal population who comprise more than 75 per cent in the BTC."
He said the government's lackadaisical attitude towards granting ST status to six ethnic communities of Assam, a long-pending demand, exposed its hollow pre-poll promises. "We will reply to the BJP in polls," he said.
Around 300 cadres of the Kamtapur Liberation Organisation (KLO), who had laid down arms for peace talks in 2013, demanded that the government initiate talks with them on granting of tribal status to the Koch-Rajbongshi community, said Khagen Chandra Ray, president of the outfit's surrendered group. Over 100 cadres of the outfit, who are camping in Myanmar, are ready to join the talks if the government invites them with a clean heart, Ray added.
Subham Das, a citizen, said, "We support the bandh as the accord will reduce non-tribals in the BTC to second class citizens. We want to live a dignified life."