Baghjan: 3 foreign experts hurt at blowout site
Minor burn injuries sustained while removing a spool from the well head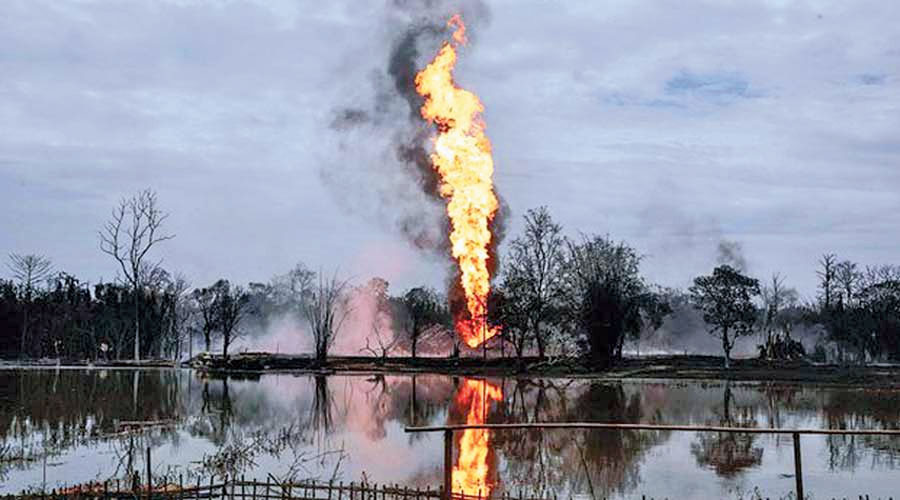 ---
|
Guwahati
|
Published 23.07.20, 05:21 AM
---
Three of the six foreign experts involved in the operations to cap the May 27 gas well blowout at Baghjan in Upper Assam's Tinsukia district "suffered minor burn injuries" at the site on Wednesday afternoon, bringing operations to a halt for the day.
On June 9, when the well caught fire, two Oil India Limited (OIL) fire-fighters, Durlov Gogoi and Tikheswar Gohain, had died.
The bodies of the fire-fighters were recovered the next day from a pond.
The fire had also forced local residents to flee their homes and stay in relief camps set up by Oil India.
Nearly 8,500 people are still living in the eight camps.
In a statement on Wednesday, Oil India, which operates the well, said the three experts from the Singapore-based Alert Disaster Control, Anthony Steven Reynolds, Doug Dallas and Craig Neil Duncan, suffered minor burn injuries while removing a spool from the well head.
"The three experts were provided immediate medical attention by a doctor at well site and later taken to burn unit of Astha Nursing Home at Dibrugarh. They have been released after dressing of the burn injuries. It is expected that operations will resume at Baghjan tomorrow," the statement said.
A senior Oil India official told The Telegraph there was no fresh fire or fresh blast.
"It was a sudden gush of fire which travelled laterally towards the trio, injuring the three who were near the well head removing the spool, a device used in connecting pipes and other equipment," the official said.
"The sudden fire burst took place during the fag end of the operation. The experts are back in Duliajan as the injuries were minor. One hurt his hand, another his shoulder and the third his face. We are hopeful of resuming operations tomorrow," he added.
Altogether six experts are engaged in the capping operations. There were at least 30 to 40 personnel at and around the well, the official said. "The well control operation continues and capping of the well is expected shortly", the statement said.
In a tweet, Oil India said petroleum minister Dharmendra Pradhan had taken stock of the situation and wished the foreign experts a speedy recovery.
Assam chief minister Sarbananda Sonowal also wished the experts a speedy recovery and advised Oil India authorities to provide the best treatment.