Assam lecture pays tribute to xatradhikar
The lecture was on the social change wrought by Srimanta Xankardeb through the Xattriya culture and traditions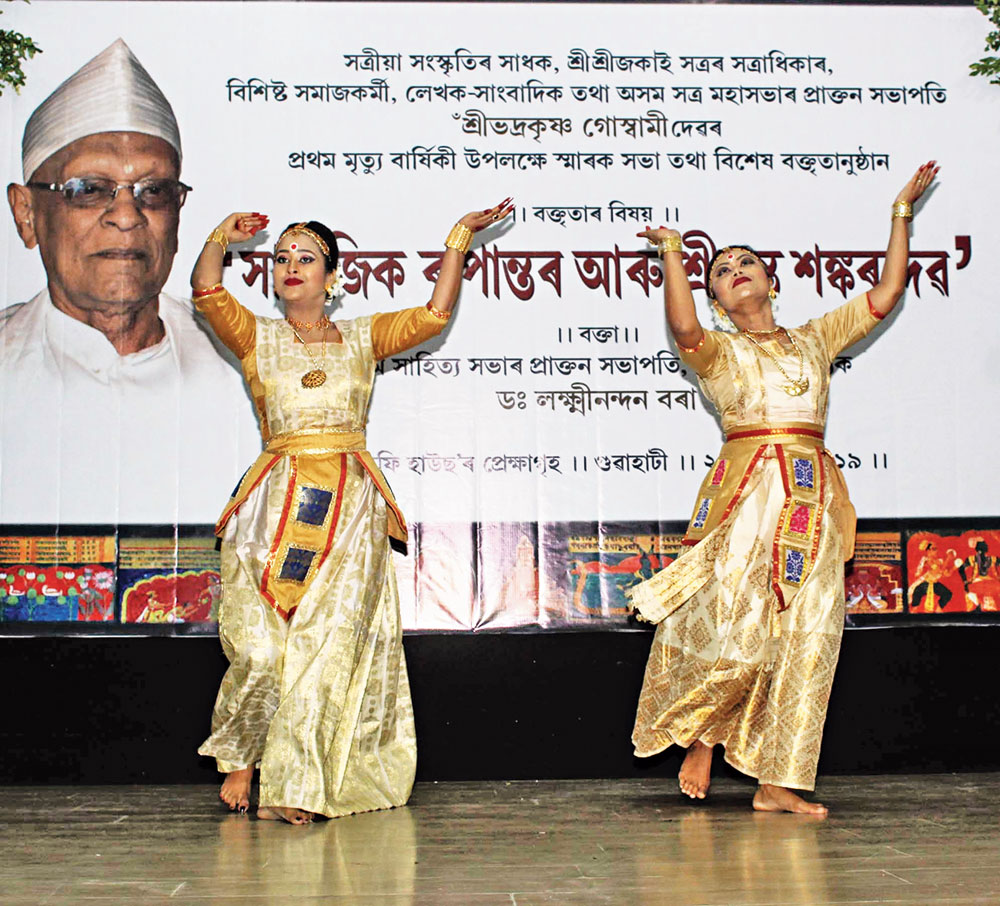 Artistes perform Xattriya on Thursday
Picture by UB Photos
---
Guwahati
|
Published 25.07.19, 07:25 PM
|
---
The social change brought about in Assam by Srimanta Xankardeb was highlighted in a lecture on the occasion of former xatradhikar and Asom Satra Mahasabha president Bhadrakrishna Goswami's first death anniversary.

Goswami was remembered through the lecture, Samajik Rupantar aru Srimanta Xankardeb (Social change and Srimanta Xankardev) delivered by former Asam Sahitya Sabha president and writer Lakshinandan Bora at Nedfi House on Thursday evening.
Chief guest and main speaker Bora delivered the lecture on the social change wrought by Srimanta Xankardeb through the Xattriya culture and traditions. Assamese life underwent a change for the better through the Vaishnavite saint's life and teachings, he said.
A host of dignitaries, including former chief minister Prafulla Mahanta, senior journalists Dhirendranath Chakravarty and Ajit Kumar Bhuyan, state water resources minister Keshab Mahanta, the founder of Asom Satra Mahasabha, Delhi chapter, Hemanta Bijoy Mahanta and others paid tribute to Goswami.
A former xatradhikar of Sri Sri Jokai Xatra, Goswami was remembered as an upholder of xattriya culture, a social worker, writer and journalist.
A borgeet, composed by Srimanta Xankardeb, sung by Goalpariya folk song expert Baby Bhuyan, was followed by a Xattriya dance performance of Guru Bandana and Bishnu Bandana by two dancers from Vasundhara Kala Niketan.
Ajit Kumar Bhuyan reminisced about Goswami's contribution to his journalistic life and paid tribute to the teacher in Goswami, at a time when the teaching profession was looked up to by the people.
Prafulla Mahanta, paying tribute to the xatradhikar, described how Goswami led an exemplary life, full of concern and support to those who followed Xankardev's teaching.
The other dignitaries also paid tribute to Goswami through personal reminisces and talking about his contribution to Assamese culture.