Assam government to convert Sarusajai Sports Complex to quarantine shelter
Quarantine shelter will be ready within a week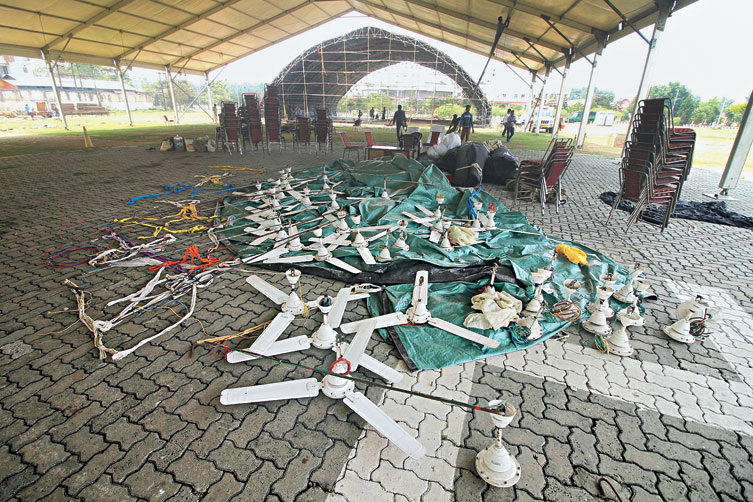 ---
|
Guwahati
|
Published 26.03.20, 06:32 PM
---
The Assam government is converting the Sarusajai Sports Complex here to a quarantine shelter for 1,000 people.
The quarantine shelter will be ready within a week. It will have food and toilet facilities. Those stuck in other states and are being brought back, along with family members of Covid-19 patients, will be quarantined in the shelter, said state health minister Himanta Biswa Sarma after inspecting the progress of work on Thursday said.
Sarma said the state health department has been leaving no stone unturned to augment its strength so that it can deal with the pandemic although no person has been affected in the state so far.
Sarma said the health department would train up 700 final year MBBS and 2,000 nursing students to be engaged as a frontline fighter against the disease. "We are developing the training module for them," he said.
Besides, the government has also taken an apartment on rent which will have the capacity to accommodate 200 doctors, who will be engaged from private hospitals and other areas, if required. He added that many doctors doing private practice have volunteered to work with the government to combat Covid-19. He said the health department would declare the results of examination for 600 ward boys and ward girls within 48 hours; they will also be employed here.
Sarma also made available the bank account number of Assam Arogya Nidhi (32124810101, SBI, IFSC Code: SBIN0010755) where people can give financial assistance to help the government tide over the present crisis.
The Assam Cricket Association has also offered its cricket stadium in Barsapara here for a proposed makeshift Covid-19 hospital or quarantine centre. "We have decided to contribute in a humble way to help the government tide over the crisis by offering our stadium premises for a makeshift hospital or quarantine centre, if need arises. Although the practice ground in front of the stadium will be enough for such a facility, the authorities concerned will be at liberty to use other parts of the stadium premises as well," ACA secretary Devajit Saikia told The Telegraph.
Sarma on Thursday announced that Silchar Medical College and Hospital (SMCH) would also be used exclusively to treat Covid19 patients while remaining hospitals in the Barak valley will treat other diseases. Sarma visited SMCH and had a meeting with its officials. He said the departments of SMCH, like dermatology, psychiatry, ENT and ophthalmology, would be transformed to Satindra Mohan Dev Civil Hospital in Silchar town.
The Assam government has already converted the district hospital at Sonapur on the outskirt of the city and Mahendra Mohan Choudhury Hospital in Guwahati (barring a few departments) to dedicated Covid-19 treatment centres. It has also closed the eye hospital at Gauhati Medical College and Hospital to convert it into an excludive Covid19 treatment centre. Besides, the government had asked the deputy commissioners to identify the college and university hostels which can be converted into Covid-19 treatment centres of quarantine facilities if required.
Sarma said samples of five persons who had travelled on the same flight as the person from Mizoram who has been found Covid-19 positive have been tested and their results are awaited.
Leader of the Opposition in Assam Assembly Debabrata Saikia told the chief minister that it is "very important to urgently provide adequate safety gear and other facilities to medical staff, along with initiation of immediate measures for house-to-house testing" for possible infection.