Assam government's anti-drug body lacks funds
The council is yet to have a permanent office building and is currently functioning from a rented house, says an official source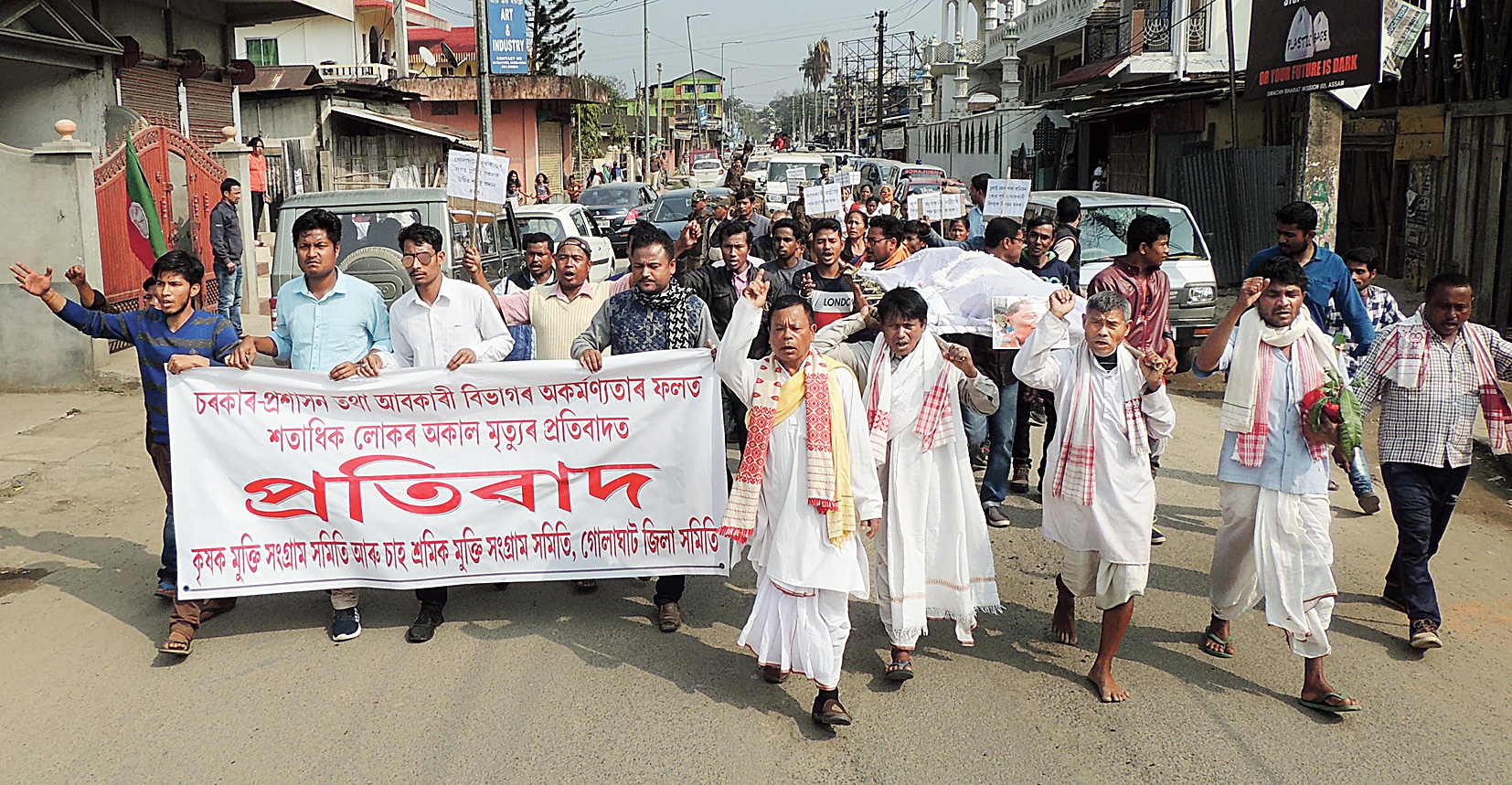 ---
|
Guwahati
|
Published 25.02.19, 08:35 AM
---
The state anti-drug and prohibition council, a statutory body formed by the Assam government in 1974 to spread awareness against drugs and alcohol, has met with little success owing of lack of funds, infrastructure and manpower.
Though a lot has been said about the need to create awareness about the ill-effects of liquor consumption, particularly in tea garden areas, the sorry state of affairs in the council speaks volumes about the indifferent attitude of the governments, especially after the recent hooch tragedy in Upper Assam's Golaghat district.
"The council is yet to have a permanent office building and is currently functioning from a rented house at Silpukhuri area of the city. A permanent office could not be set up because of lack of funds and non-allotment of land by the state government," an official source said.
He said the council has a mobile cinema unit for screening educative films and shows in rural and tea garden areas, but is lying idle for the want of repairs for the past several months. "We have also not been able to involve the panchayats in our activities because of financial constraints," he said.
Giving the example of Golaghat district, he said the council currently has one honourary zonal prohibition organiser for the entire district whereas ideally there should have been one assistant prohibition organiser for each of the three sub-divisions of the district.
Moreover, Golaghat honourary zonal prohibition organiser Beni Gowala had not received his monthly honourarium of Rs 3,000 for the past 14 months.
Gowala told The Telegraph that in the last year he had received Rs 5,000 to organise two awareness meetings — one on June 26, 2018, on International Day against Drug Abuse and Illicit Trafficking and another on Mahatma Gandhi's death anniversary on January 30. Gowala said he neither gets a vehicle for transportation nor a sufficient publicity materials for carrying out awareness drives.
Council chairman Lokendra Prasad Deka said he was appointed only on January 11 this year and would not be able to comment on the activities of the council before he took charge.
But, he said the council has been holding meetings, seminars, group discussions, exhibitions and is also distributing publicity materials to generate awareness.
A source said the council was in a sort of limbo since the BJP-led government came to power in 2016 as the members of the council were appointed during the tenure of the previous Congress government.
"Now, since the present government has reconstituted the council on January 11 this year, we hope that it will become active and effective in carrying out its activities," the source said.
The council was formed under three different Acts — The Assam Liquor Prohibition Act, 1952, The Opium Prohibition Act, 1947, and The Assam Ganja and Bhang Prohibition Act, 1958.