Anti-bill vandals at work in Dibrugarh
Shopowner says govt had told him to stay open or lose trade licence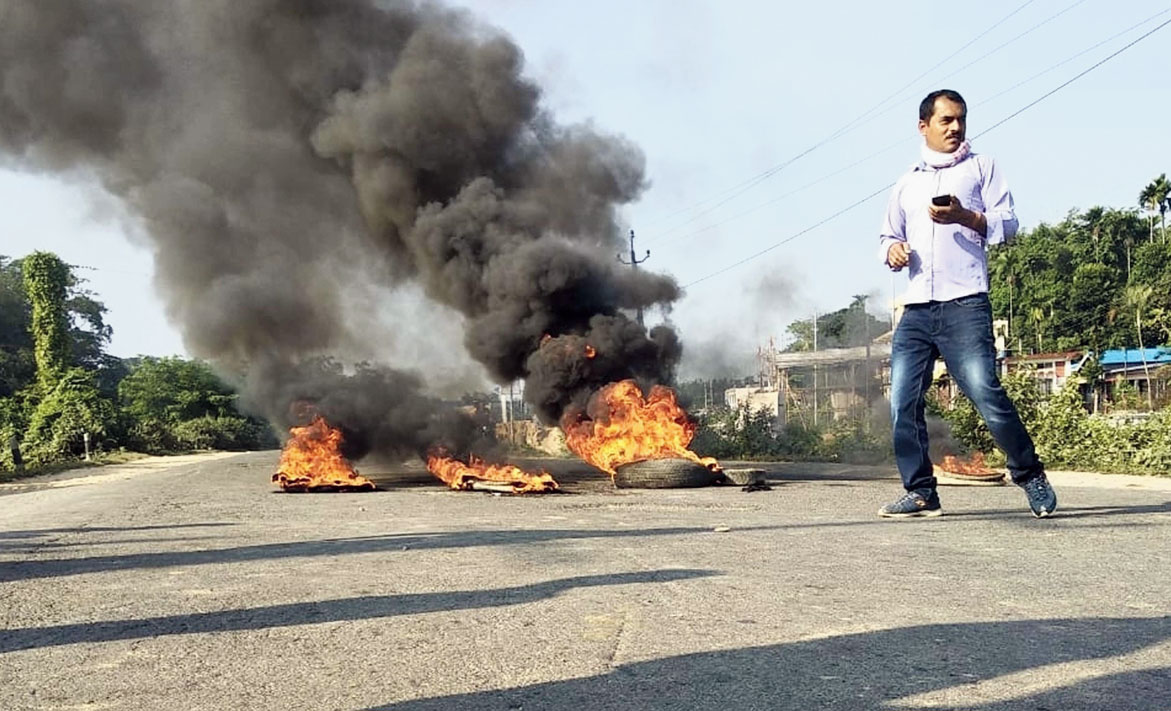 ---
---
Bandh supporters vandalised a shop on HS Road, 350m from Dibrugarh police station, in this Upper Assam town on Tuesday as police personnel allegedly looked on.
Sources said bandh supporters had threatened the owner of the shop Letz Go to down shutters in the morning but he refused to do so. An hour later, around 50 bandh supporters turned up, jostled with him as they tried to down shutters and pelted stones at the shop.
Eyewitnesses said police personnel remained mute spectators all through.
Jay Newetia, owner of the shop, said, "We opened our shop because the Dibrugarh district administration had told us not to support the bandh, failing which, we were warned, our trade licence would be cancelled. Bandh supporters assaulted us and smashed the shop's window panes by pelting stones in front of the police. Only yesterday, the district administration had assured us of security but the bandh supporters smashed our window panes in the presence of security personnel."
Newetia felt "let down" by the administration but opened his bakery-cum-restaurant, after keeping it shut for a short interval, despite the vandalism.
Nobody has been arrested so far.
Bhudev Phukan, president of Eastern Assam Chamber of Commerce, Dibrugarh, said, "The deputy commissioner, at a meeting, had asked us to open our shops during bandh. We narrated our earlier experiences during bandhs but she said the trade licences of those who defy orders would be cancelled. We asked her to provide security and she assured us of it but shopkeepers who kept their shops open had to face the wrath of bandh supporters."
Despite Dibrugarh being the home district of chief minister Sarbananda Sonowal, the police failed to control bandh supporters who were seen intimidating shopowners.
Sources said the police were hampered by shortage of manpower.
Most business establishments, schools and colleges, however, remained shut, defying the government order not to observe the bandh.
At least 100 bandh supporters were detained by the police from various parts of the town and were confined at Dibrugarh police station.
Dibrugarh deputy commissioner Laya Madduri told The Telegraph that the police will take action against bandh supporters. "We have got video footage from CCTV and they will be arrested soon," she said.