AGP hits back at 'betrayer' BJP
Instead of deporting illegal migrants, BJP govt at Centre is rolling out red carpet for Bangladeshis, says coalition partner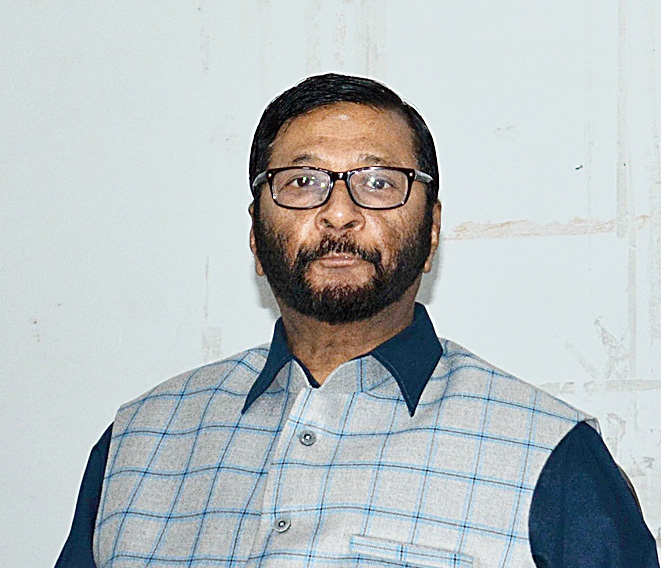 It is they [BJP] who have betrayed the people of Assam: AGP leader BP Baishya at the news meet in Guwahati on Friday, December 7, 2018.
UB Photos
---
Guwahati
|
Published 07.12.18, 07:25 PM
|
---
The AGP on Friday paid back the BJP in the same coin by accusing it of betraying the people of Assam with unkept promises.
AGP general secretary Birendra Prasad Baishya reminded the BJP of an announcement made by Prime Minister Narendra Modi during the 2014 Lok Sabha election campaign — that Bangladeshi infiltrators would have to pack up after May 16, 2014 — and asked what had happened to that.
"Let alone deport illegal migrants, after coming to power, the BJP-led government at the Centre is rolling out the red carpet for Bangladeshi migrants. It is they who have betrayed the people of Assam," he said, referring to the Citizenship (Amendment) Bill, 2016.
The AGP hit back at the BJP, its ally in the government, after the party at a news meet on Thursday dubbed it a "betrayer" for contesting the panchayat elections independently.
Just like the BJP, the AGP too made the allegation at a news meet on Friday, pushing the ruling alliance to the brink ahead of the second phase of panchayat polls on Sunday.
On Himanta Biswa Sarma blaming the previous AGP government for secret killings in the state, AGP spokesperson Manoj Saikia said the then BJP government at the Centre was the architect of secret killings in the state.
He alleged that the BJP has an understanding with the Congress and the AIUDF.