AGP chief explains move to rejoin BJP
Congress campaign against party, alleges president Bora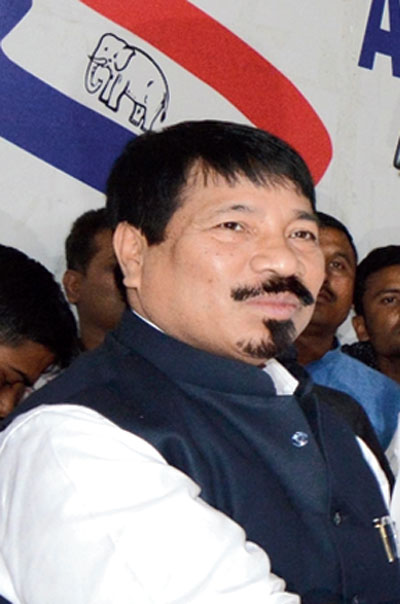 Atul Bora
Picture by UB Photos
---
Guwahati
|
Published 20.03.19, 07:11 PM
|
---
AGP president Atul Bora on Wednesday said the Congress had launched a campaign against the AGP after it renewed its alliance with the BJP to fight the Lok Sabha elections.
"There has been a campaign against us. You go through social media and will get to know who is behind it. It is the Congress and a section backed by it," said Bora at a programme here.
The AGP has been facing flak from various sections after renewing its alliance with the BJP, though the latter has not changed its stand on the Citizenship (Amendment) Bill, 2019.
The party had earlier snapped ties when the BJP cabinet gave its nod to tabling the bill in the Lok Sabha and launched a scathing attack on the party.
Renewal of alliance with the BJP and three AGP leaders joining the cabinet of chief minister Sarbananda Sonowal came as a surprise for many.
The party has also suspended several members from its primary membership in the past few days on charges of speaking against the party leadership for allegedly taking unilateral decisions on important issues.
Former chief minister Prafulla Kumar Mahanta also had accused the party leadership of not taking the approval of the party's general house about renewing its alliance with the BJP.
Bora on Wednesday said the AGP takes its decisions based on its "ideologies" and the renewal alliance with the BJP was taken considering the "changing circumstances".
"The people will analyse and realise it and will remain with the AGP," he said.
"The AGP leaders were very active in Parliament. But the national parties had their own agenda. We realised that unless we join hands with some like-minded national political parties, we will not be able to attain our goal," said Bora.
By "goal" Bora was speaking of the implementation of the Assam Accord. He said the accord could not be implemented although the AGP was twice in power as the Union home ministry was the nodal agency of its implementation.
"This is not the first time we have sealed an alliance with the BJP. We did it in 2001, 2009 and again in 2016 to remove the Congress. People of Assam have seen what the Congress has done for the state," Bora said.
This time the AGP is fighting the Lok Sabha poll from three constituencies — Kaliabor, Dhubri and Barpeta. In 2014, it fought the election alone and could not win a single seat.
It fought the 2016 Assembly election with the BJP and won 14 seats. It fought the panchayat elections alone.