254 kids rescued in Assam since April
According to Haloi, Kamakhya railway station is a hotspot for child trafficking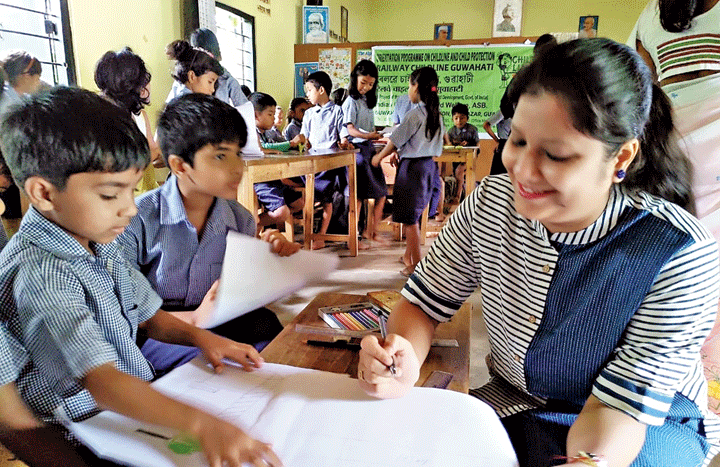 A workshop by Railway Childline at a Guwahati school
Abinash Kalita
---
Guwahati
|
Published 12.11.19, 07:07 PM
|
---
Altogether 254 stranded children were rescued by Railway Childline Guwahati, a central government initiative run by an NGO, from Assam between April and September this year.
Last year, the NGO, Indian Council for Child Welfare (Assam state branch), had rescued 430 kids from Guwahati and Kamakhya railway stations.
"According to Census 2011, nearly 4.5 per cent children in Assam are engaged in labour. Guwahati has the maximum number of domestic child labourers in the state. We have rescued 1,591 kids from June 2015 till September this year. Altogether 190 boys and 64 girls were rescued this year. These kids were brought mainly for trafficking and labour. The rescued kids have been sent to their guardians or handed over to the Child Welfare Committee," Railway Childline Guwahati coordinator Abani Haloi told The Telegraph.
The state government-constituted CWC determines the best interest of a child, finding him/her a safe home and environment either with his/her original parents or adoptive parents, foster care or in an institution.
"The CWC meets and interviews the child to learn his or her background and understand the problems he or she faces. Counselling of a child after he/she is rescued is very important. Lack of proper counselling pushes them again into the same course of activity," Haloi said.
"We are now taking a proactive role in identifying children in need of protection at railway stations and sending them to a safer place before they get into crime. Earlier, our role would begin when a crime had been committed," Haloi added.
Railway Childline Guwahati organises special programmes for its personnel and stakeholders on how to identify vulnerable children, especially if they are minors.
According to Haloi, Kamakhya railway station is a hotspot for child trafficking. "We have come across several cases at this station," he said.
Railway Childline Guwahati also urges passengers, travelling or waiting on platforms for trains, to look for vulnerable kids, inform the police or call Childline 1098.
GRP and RPF also keep an eye on children to identify those who need help.
Government Railway Police (GRP) and Railway Protection Force (RPF) also keep a close eye on children to identify those who need help and are vulnerable to crime.