wear
A 'dhuti' sighting at Cannes!
Filmmaker Gourab Mullick wore a dhuti by Parama to the French Riviera
Published 29.05.22, 12:21 AM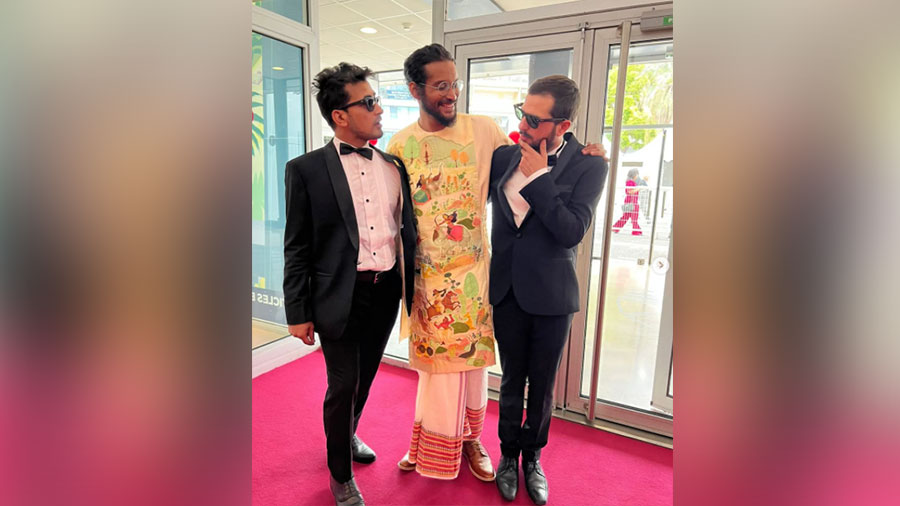 Image courtesy: @parama_g/Instagram
The Cannes Film Festival experienced a taste of Bengal as filmmaker Gourab Kumar Mullick wore a dhuti by Parama to the Cannes Film Festival. Mullick who was invited to Cannes for his film Starfruits was styled by Pushpak Sen aka Instagram's The Bong Munda. Parama Ghosh took to Instagram to share some details about the dhuti which Mullick paired with a kurta designed by Agnik Kolkata.
"The design for this dhuti was @pritika_pathak 's brainchild. It was one of her assignments when she was still a design trainee at Parama. This Dhuti, we have named "Peruvian" after the weave it has been inspired from. The patterns are very common in the fabric in the Peruvian Andes, entirely handwoven. They use Aguayo cloth to wrap and carry their kids on their backs. Textiles patterns of Peruvian Aguayo, their unique styles and designs became the theme for our dream.
We created this Dhoti in Shantipuri weave. It was our humble attempt to celebrate textiles across the globe in the form on indigenous Bengal weaves. So proud it made it to one of the most prestigious film festivals in the world," wrote Ghosh on Instagram.