shop
Sunday Classics: Raina Hydro Emerald Ring by Isharya
Dress like millennial royalty...
Published 23.01.22, 12:15 AM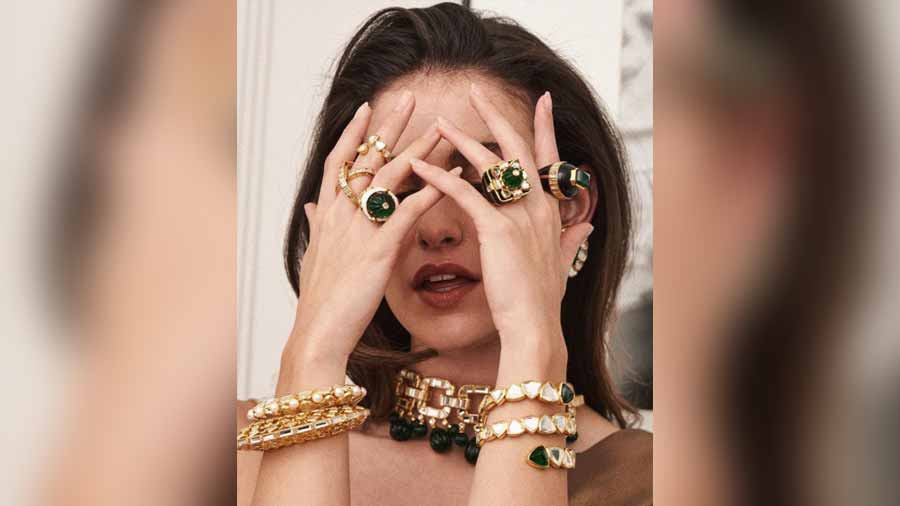 Image courtesy: @isharya/Instagram
Isharya's newest Modern Maharani edit lines up intelligent and contemporary heirloom pieces that can be used for bridal or cocktail memos. The Raina Hydro Emerald Statement Ring features a striking, carved hydro emerald and sparkling mirrors, speckled with cubic zirconia accents. The collection celebrates time-tested silhouettes and old-world design language but with wearable, budget-friendly pieces. The handcrafted ring has an 18kt gold-plated base and bears Mughal-inspired design elements.
The light-catching and stylised emerald ring is essentially a party number that can also serve you well if you're curating a destination wedding wardrobe. It's definitely lighter and more effortless than heavy-duty jadau and more cosmopolitan. If you're looking to stack up on travel-friendly jewellery but aren't entirely sure about packing your priciest bijoux or family heirloom pieces, consider splurging on smart, maximalist pieces such as this one.