shop
This Box of Joy could be the perfect Christmas gift for your little ones
Packed inside are Christmas postcards, bookmarks, ornaments, fridge magnets, paints and more!
Published 24.12.22, 06:59 AM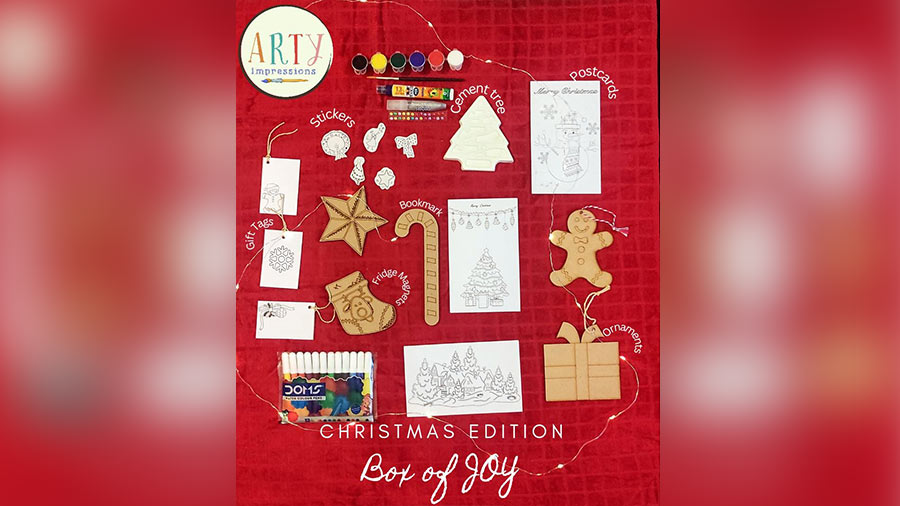 Image courtesy: Arty Impressions
The season of gift-giving is about to peak in two days and we can't keep calm! If you are still on a lookout for a Christmas gift that is as adorable as it is unique, add Arty Impressions' Box of Joy to your cart for the kids in your family. The box contains a bunch of cool and artistic gifts – DIY postcards and gift tags, DIY stickers, Christmas ornaments and magnets, candy cane bookmarks and a Christmas Tree Toy. As if these weren't enough, the Box of Joy also includes paints, sketch pens, brushes, magnets, Fevicol, and of course, glitter! The gift is a perfect DIY kit for the little ones around you who can keep themselves entertained and also unleash their creativity with the Box of Joy. And don't forget, you too can join the kids in personalising the gift items, thus making memories and indulging in some much-needed quality time at the end of the year. Christmas just got a whole deal more fun and exciting, doesn't it?
How to order: To place an order, send a text to 8879793609 (pan-India shipping available)
Pocket pinch: Rs 700 for one
— Sohini Dasgupta