read
'Desperately seeking Shah Rukh' by Shrayana Bhattacharya
An exploration of the female gaze
Published 29.01.22, 08:11 AM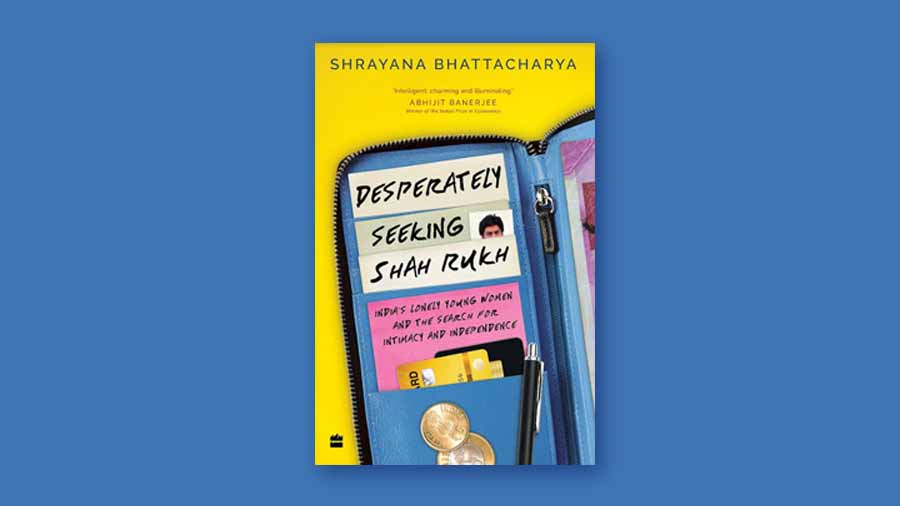 For many of us, our first formal induction to Bollywood began with the iconic Yash Raj Films production – Dilwale Dulhania Le Jayenge (DDLJ), which introduced us to a romantic hero quite unlike any other we had encountered before – Shah Rukh Khan. One of India's most beloved superstars, Khan's fan base ranges far and wide, going on to extend beyond the borders of this country and finding home in other parts of the world as well, where you might hear an audible gasp of recognition the minute you utter his name.
Back home however, his films spell out relief to numerous women who are otherwise bogged down by the harsher realities and mundane details of their everyday lives.
And it is the lives of these women that Shrayana Bhattacharya explores in her work – Desperately seeking Shah Rukh: India's Lonely Young Women and the Search for Intimacy and Independence. From Delhi's loud, glitzy nightclubs to the quiet boredom of a far away city in Uttar Pradesh, Bhattacharya's book spans across various regions of India and weaves a story of Shah Rukh Khan's large and extensive female fan base. By interviewing a cross-section of the female population, all hailing from different socio-economic backgrounds, and in asking questions about why these women love SRK, Bhattacharya is able to offer a holistic view of how women of today comprehend things like money, relationships, freedom, beauty, men and other aspects of life that are entangled with their own.
Published by HarperCollins India, Shrayana Bhattacharya's book is unique in how it broaches questions of socio-economic relevance and seeks to answer them vis–à-vis the various nuances of the large (and ever expanding) female fanbase that Khan attracts. Quirky, witty and written with striking clarity, the book is a must read for anyone seeking to gain insights into the curious world of the female gaze.
- Upasya Bhowal