listen
'Aami Shei Manushta Aar Nei' takes you back to 'Baishe Srabon'
This Srijit X Anupam Roy from 'Dawshom Awbotaar' will remind you of 'Ekbar Bol' and 'Gobhire Jao'
Published 03.10.23, 10:06 AM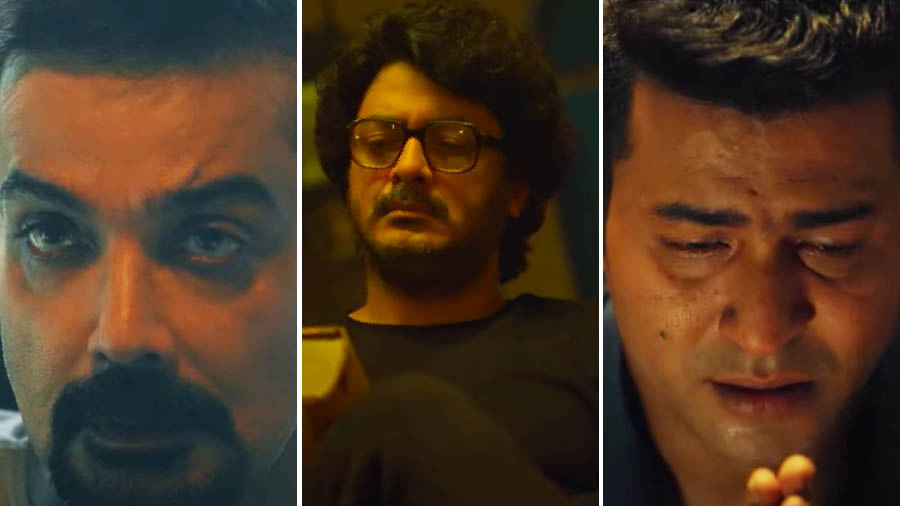 Image courtesy: SVF/YouTube
Aami Shei Manushta Aar Nei from Dawshom Awbotaar is a song that grows on you, like every other song from a Srijit Mukherji directorial. Sung, composed and written by Anupam Roy, the lyrics, the soundscape and the cinematography is sure to take you back to the music of Baishe Srabon. It is an introspective number, which talks about personal metamorphosis — almost like a step forward from Gobhire Jao, weaving "Ei bujhi tol pele fer harale, Proyojone dube jao" with "Aami Shei Manushta Aar Nei".
"We all were once that person we aspired to become someday, but as life's blows keep coming, that person gets lost along the way. The stories of those who've changed, who've been lost and transformed…" is how the melodious number has been described on SVF's YouTube channel.
Prosenjit, Jisshu Sengupta and Anirban Bhattacharya come together in a story of angst, personal loss and facing their inner demons, turning the song into a sneak-peek of one of the most awaited Bengal films of 2023.
The film releases on October 19.
— Pooja Mitra
Want to get featured in the Try This Today section of My Kolkata? Mail us at trythistoday@tt-mykolkata.com