watch
Nostalgia and thrill await in Srijit Mukherji's 'Dawshom Awbotaar'
The most awaited trailer of the Bengali crime franchise is here…
Published 26.09.23, 09:08 AM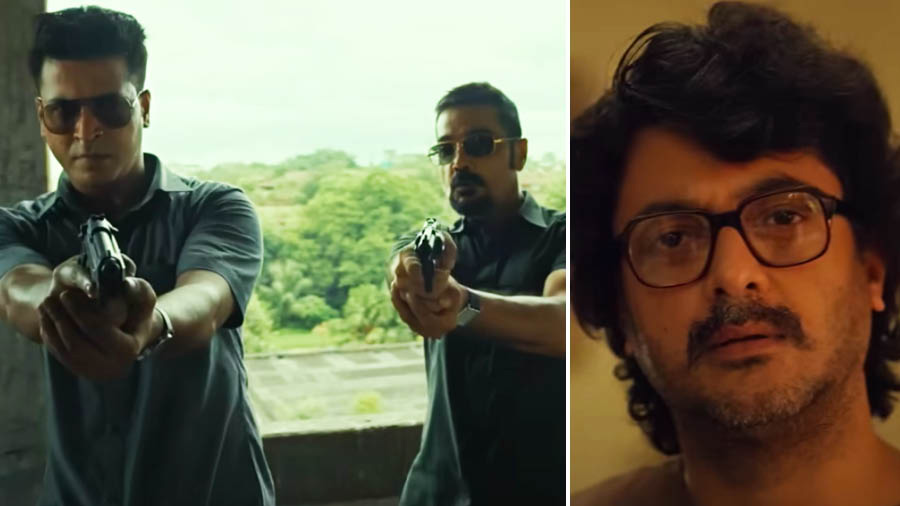 Image courtesy: @SVF/YouTube
After Baishe Srabon and Dwitiyo Purush, Srijit Mukherji is back with another film from the franchise — Dawshom Awbotaar. Starring Prosenjit Chatterjee as cop Probir Roy Chowdhury, the first glimpse of Bumbada brings back memories from Baishe Srabon. The popular punchlines referring to biryani and daal-bhaat takes one back to the love-and-longing scene with Parambrata Chattopadhyay, Raima Sen, Abir Chatterjee and Prosenjit. Anirban Bhattacharya in police avatar in Dawshom Awbotaar is a treat to watch, and the Anirban-Prosenjit duo almost makes one wish for Parambrata to join the squad.
Serial killing, eeriness, adventure, crime, romance, revenge — this thriller is set to be high on adrenaline. With Anupam Roy behind the music and lyrics, and Indraadip Das Gupta composing the background score, this Srijit Mukherji directorial is promising for many reasons.
The film is also Tollywood's first venture into a double prequel of Baishe Srabon and Vinci Da. Dawshom Awbotaar releases on October 19.
—Pooja Mitra
Want to get featured in the Try This Today section of My Kolkata? Mail us at trythistoday@tt-mykolkata.com